2018-2019 Jack Petchey winners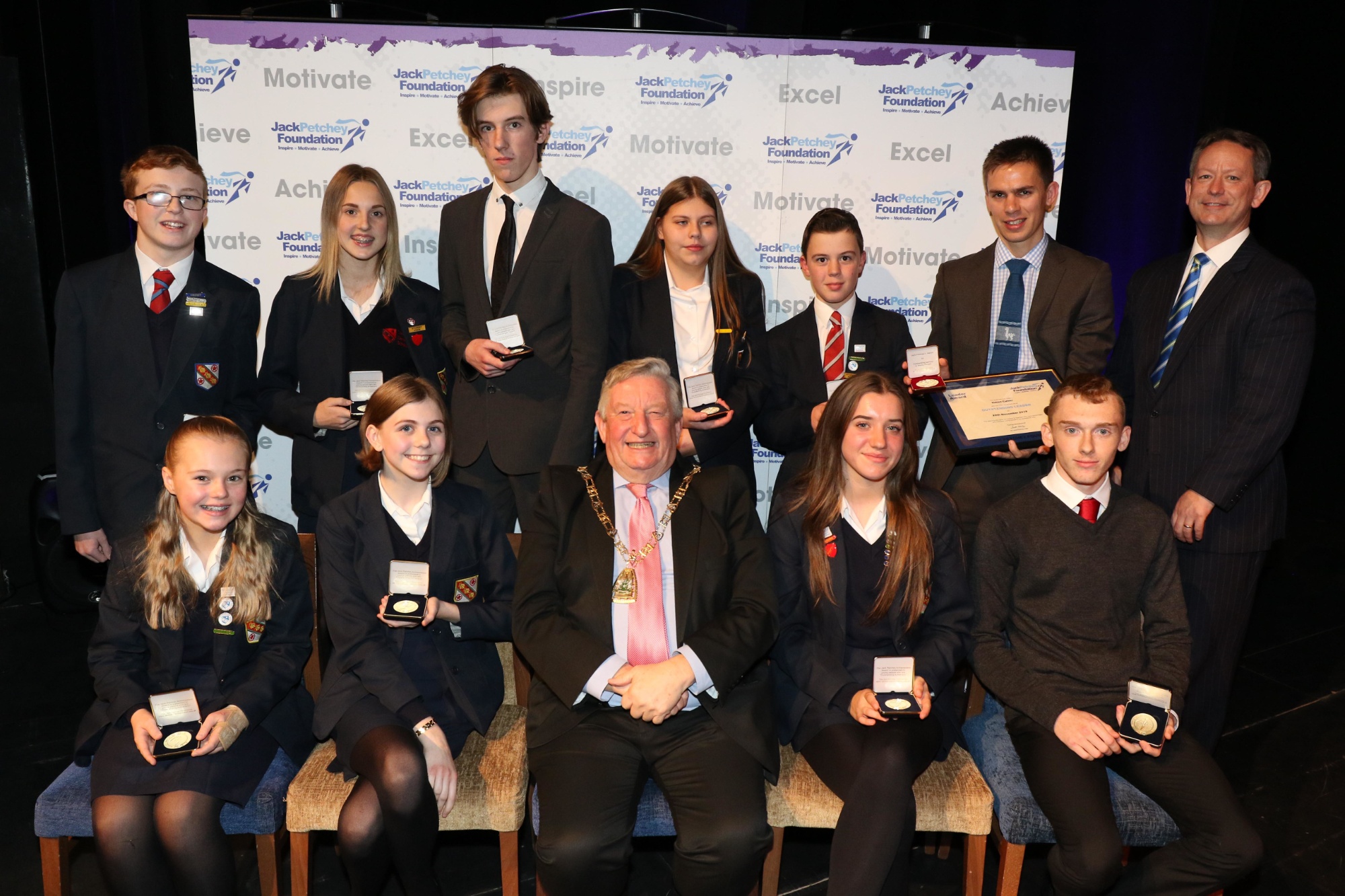 September 2018 Year 10 Winner: Kelsey Pullin
Reason:
Kelsey has received this award for her tremendous sporting achievements outside of school for the pole vault where she has taken part in high level competitions, including representing Bromley in a regional competition. Kelsey is a dedicated student who keeps up to date with her school work and homework with her brilliant work ethic, despite a gruelling training schedule.
Nominations have also come from Kelsey's peers for her commitment to her other extra-curricular activities which include not only the pole vault but also running, netball, football and for breaking school sports day records.
October 2018 Year 8 Winner: Madeline Broadley
Reason:
Madeline has received this award because for being an excellent role model to others with her consistent determination and hard work in all her lessons. For regularly helping other students by encouraging and supporting them to do their best.
November 2018 Year 11 Winner: AJ Read
Reason:
A-J has received this award in recognition of his effort and hard work in his studies; particularly in English where, as a result of his careful listening and quiet determination, he is already achieving his target grades.
A-J's peers and staff alike are very impressed by the way in which he conducts himself around school following his recent knee injury and the fact that he does not let this injury hold him back in any way.
January 2019 Year 7 Winner: Olivia Persson
Reason:
Olivia has received this award for being a dedicated student who works hard in all her lessons. She is an extremely polite young lady who has been described by her peers as being very kind and helpful, and always ready to lend a helping hand wherever possible.
The award also recognises her enthusiasm and commitment to 'Thrive' the school's dance company, for performing beautifully and for all the time and hard work that she puts in to improve her dance skills.
February 2019 Year 9 Winner: James Kennell
Reason:
James has received this award in recognition of this enthusiasm and commitment to school life by always putting in 100% effort into everything he does, whether it is his studies or his dedication to clubs and organisations outside of school. In particular, in his English studies where he is engaged and focused in every lesson and quietly determined to improve his high quality work.
James has also been acknowledged for being an active member of the Student Voice and for being successfully elected to be a member for the School Council for the past three years.
February 2019 Year 12 Winner: Casey Champion
Reason:
Casey has received this award in recognition of her commitment to both her school studies and extra-curricular activities and for being someone who is willing to go that extra mile and not be afraid of putting herself "out there."
Casey is a talented clarinettist and her peers admire the total commitment that she gives to the orchestra and school performances. Casey is a fantastic Sixth Form student who embraces and embodies all that we stand for.
March 2019 Year 13 Winner: Scott Tiffin
Reason:
Scott has received this award in recognition for always working hard to improve, for never flagging or giving up and for taking on board criticism and using it to improve. Scott's personal drive has put him in a good position to achieve past his targets.
Scott is honest and open, intelligent, funny and always willing to help others. One member of staff described him as being one of those rare individuals with great warmth and generosity of character, and a privilege to know.
March 2019 Year 10 Winner: Jessica Bailey
Reason:
Jessica has received this award for always working hard in every lesson with a determination to succeed. For always being positive and upbeat and for bringing out the best in others.
This award also recognises Jesscia's hard work and time that she gives to extra-curricular activities both inside and outside of school, including being a dedicated member of 'Thrive', the school's dance club, running a lunchtime dance club for younger years, being part of school shows and appearing in Pantomime. This is all whilst maintaining high standards with her studies.
April 2019 Year 11 Winner: Samuel Walker
Reason:
Samuel has received this award for being a diligent student who consistently works hard in all his lessons. His absolute focus for doing the very best that he can is reflected in his excellent predicted grades in all subject areas, especially in History where his contributions are always insightful.
This award also recognises Samuel for his behaviour and attitude record which are superb.
May 2019 Year 8 Winner: Faye Grant
Reason:
Faye has received this award for being a mature, thoughtful, independent student. For being an active member of her form group by putting her organisational skills to good use when she single-handedly planned the form's fundraising doughnut sale which was a great success.
Faye has also received this award in recognition of her excellent effort and attention to detail in her Science lessons, including producing outstanding homework every time.
June 2019 Year 7 Winner: Lewis Longley
Reason:
Lewis has received this award for fully participating in all areas of school life, from being awarded the most house points in form, achieving platinum effort grade and 100% attendance to representing his form and the year group by being elected as a member of the School Council.
Lewis is also part of the school's rugby and cricket clubs and outside of school he is a talented BMX rider and is often involved in national competitions and training sessions but always maintains his outstanding levels of achievement in school by ensuring that he is completely up to date with his all studies.
Lewis tries hard and puts his 100% into everything that he does, he is polite, caring and goes above and beyond in class and with friends.
Leader Award 2018/19: Mr Simon Culver