2017-2018 Jack Petchey winners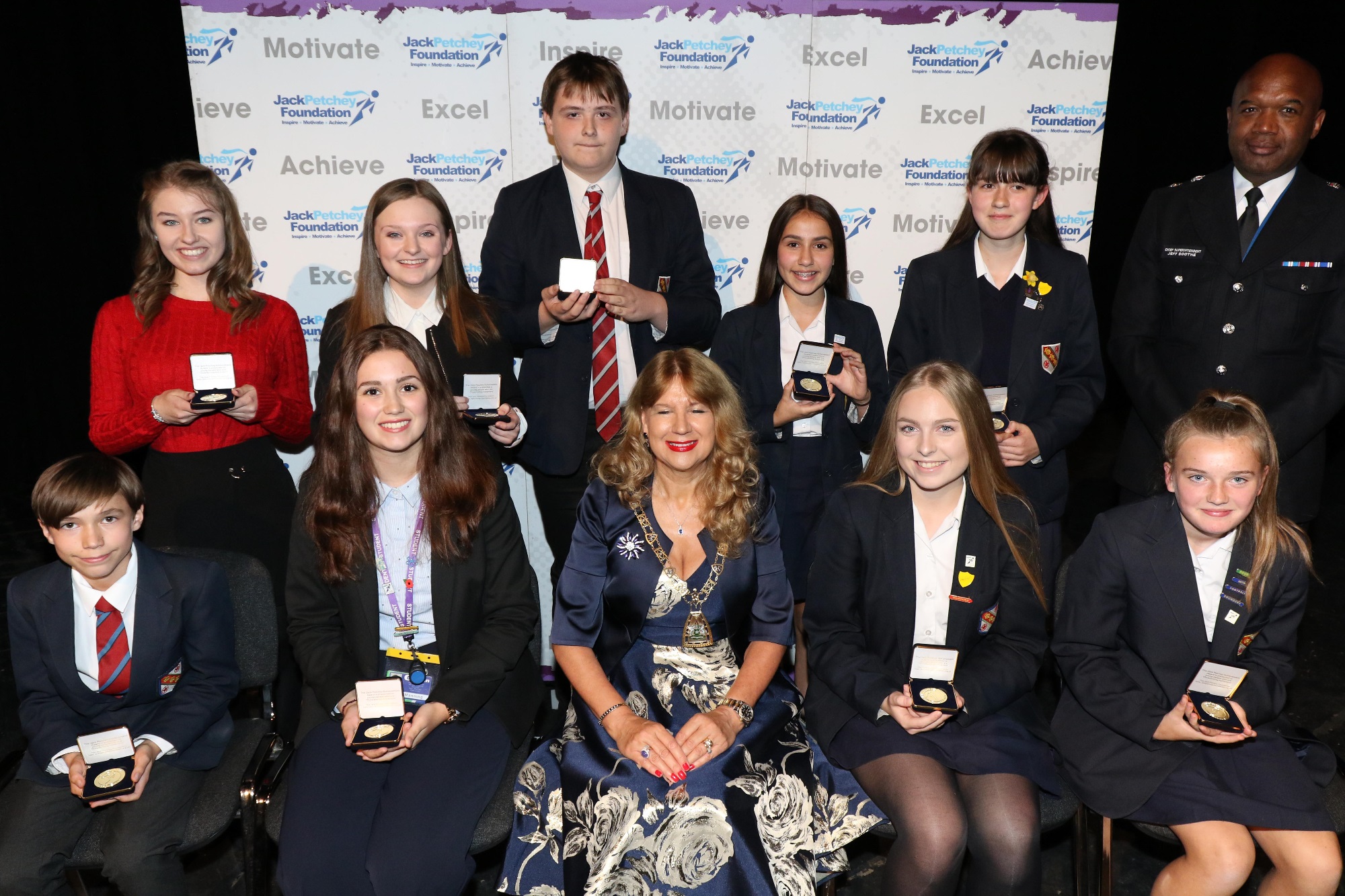 September 2017 Year 10 Winner: Rose Wood
Reason: Rose has received this award in recognition of her working extremely hard in her studies by always putting 100% into everything she does which is reflected in her platinum effort grades. For being a dedicated member of the school netball team who also takes an active role in coaching younger students, and for being a great role-model to others and an excellent friend too!
October 2017 Year 8 Winner: Amber Boswell
Reason: Amber has received this award for being a delightful young person, one who always has a ready smile and wonderful manners. She has a great work ethic towards her studies and has successfully been elected to be a member of the school's Student Voice for the past two years. Amber has also represented the school as part of the football team, as well as being a committed and enthusiastic member of the netball and rounders teams.
November 2017 Year 11 Winner: Olivia Manning
Reason: Olivia as received this award for being an open-minded, caring and supportive young lady who thinks of others before herself. Over the last year Olivia has volunteered to regularly support the school community through mentoring younger students and as a member of the School Council. Olivia also displays a conscientious attitude towards her studies where she works incredibly hard and approaches each task with determination.
January 2018 Year 7 Winner: Andrew Waddington
Reason: Andrew has received this award for consistently working hard in all of his lessons and in particular for his excellent contributions in his drama lessons and participation in the school show. His fellow students value his kind and friendly nature, the way he just quietly gets on with things, and the fact that he always go out of his way to not only help but include others. For his hard work in representing the form and year group by being an elected member of the School Council is also appreciated by Andrew's peers.
February 2018 Year 12 Winner: Sophie Marshall
Reason: Sophie has received this award for embracing all the opportunities open to her; from working extremely hard to progress in her studies, to taking part in charity work and fundraising events for good causes, to supporting younger students at an after-school club. Sophie is a lovely person and a model student who whole-heartedly throws herself into being a valued member of the school community.
March 2018 Year 13 Winner: Melissa Quinn
Reason: Melissa has received this award in recognition of all that she does for the school. Her active involvement in all the school productions, Dance competitions, music festivals and Darwin's Got Talent, shows her total dedication to the Expressive Arts faculty. Her kindness and support for others during her time in the Sixth Form has also been recognised by staff and students alike.
April 2018 Year 9 Winner: Harry Clark
Reason: Harry has received this award in recognition of his incredible effort and drive to excel in school. His persistence and determination to make excellent progress in all of his studies is a testament to the focus, maturity and hard work that he applies in all his subjects. This is also evidenced by Harry recently receiving all 1's for effort on his latest report. Also, for being a wonderful singer who has sung in prestigious events in the UK and abroad but is very modest about this incredible achievement.
May 2018 Year 8 Winner: Emma Zeelie
Reason: Emma has received this award for being a helpful, hard-working, diligent student who has a tremendous work ethic. For her determination to always give 100% to her studies by producing work of the highest quality which is reflected in her superb effort and attainment grades. Emma has also been nominated for her dedication to her judo commitments outside of school where she competes at the highest level.
June 2018 Year 10 Winner: Abbie Summerscales
Reason: Abbie has received this award in recognition of her volunteer work outside of school at Chartwell National Trust, in her role as a Room Steward. Her dedication and commitment to this volunteer work clearly demonstrates her love and interest in history. Abbie has also been nominated to receive this award for her superb effort and attainment in her studies across the board, for being a hard-working student whose focus and determination to succeed is admirable.