2016-2017 Jack Petchey winners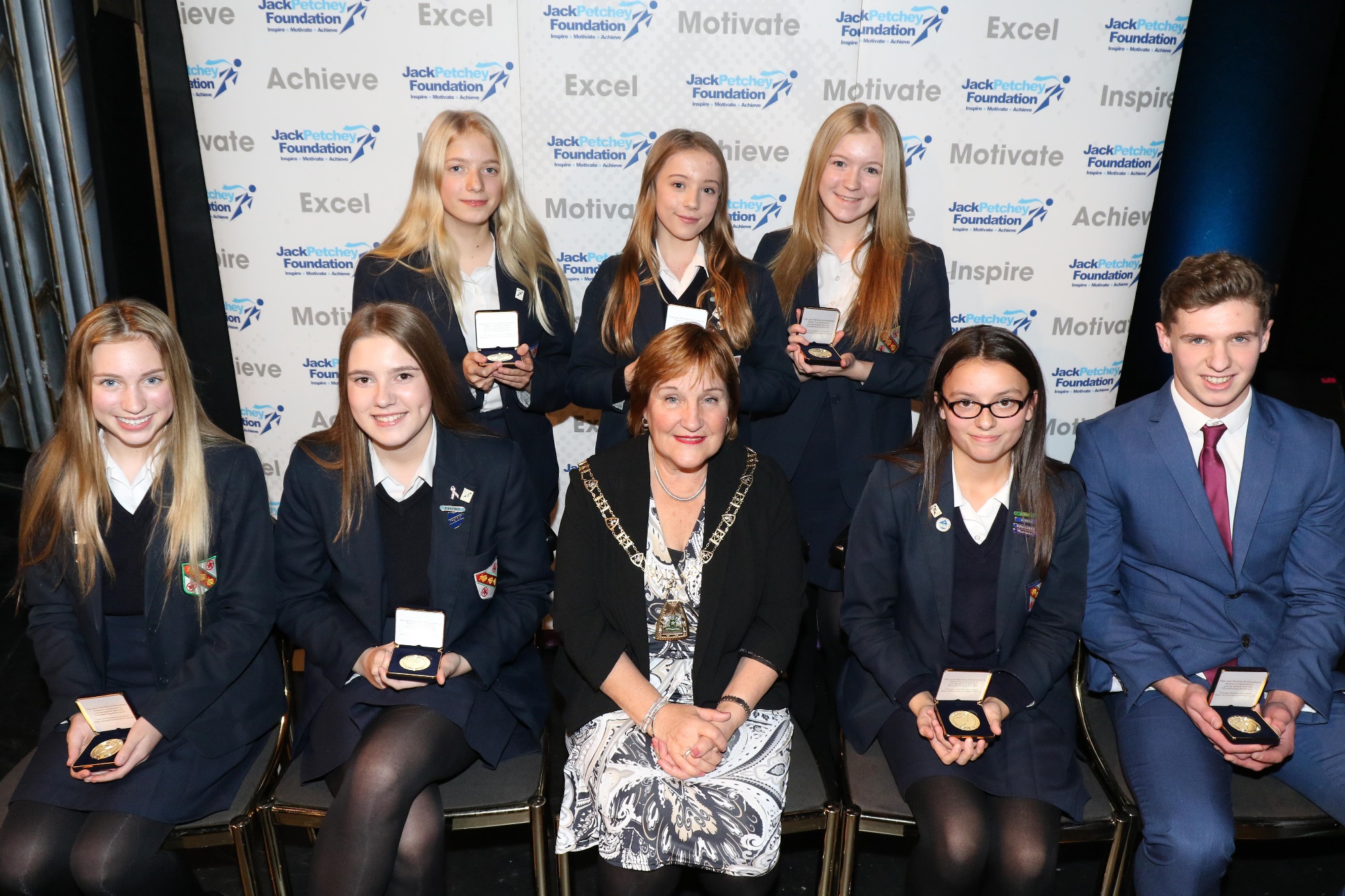 September 2016 Year 8 Winner: Saskia Hobbs
Reason: Saskia has received this award for working exceptionally hard across all her subjects and for setting a great example to others with her behaviour and effort. For being a kind and friendly student with a positive attitude who is always happy to help and support her peers and for contributing to the wider school community by competing in the girls football, netball and rounders teams.
October 2016 Year 10 Winner: Leah Simpson
Reason: Leah has received this award for continuously putting her maximum effort into a range of subjects, for being a hard-working student whose focus and determination to succeed is admirable. Leah is an excellent role model in class, showing empathy and support to others, as well as being a pleasure to teach. Leah is a true example of what the power of effort can do.
November 2016 Year 11 Winner: David Lineker
Reason: David has received this award for taking his leadership skills to the next level with a transfer from the sports field to his role as a Prefect in school. David has grown into a fine young man who is flourishing both as a student in his studies which is reflected in his predicted grades and as a role model, exhibiting great leadership skills in sports teams at school and within his role as a football team coach outside of school.
January 2017 Year 7 Winner: Kirsty Hunt
Reason: Kirsty has received this award for being a confident, cooperative and helpful pupil who contributes to all aspects of school life, including form events and assemblies. Kirsty takes time for other people by getting involved in charity fundraising events, as well as being supportive to other students in her year group, and also for her performances in a local theatre production. Kirsty always participates actively in lessons and her fantastic achievements are thoroughly deserved as a result of her well-organised and disciplined work ethic.
February 2017 Year 12 Winner: Charlotte Suter
Reason: Charlotte has received this award for showing real dedication to her volunteer work by supporting younger pupils in school with their literacy and numeracy. Charlotte demonstrates great empathy towards other students and is able to relate to them well. Charlotte is enthusiastic about her studies, especially in her Communications and Culture lessons where she has contributed avidly to discussions promoting the female perspective
March 2017 Year 13 Winner: Alfie Leighton
Reason: Alfie has received this award for being an outstanding Deputy Head Boy, showing great leadership skills and dedication to the role. Aflie's contribution to the school is exceptional and he has made the most of every opportunity open to him, from charity work to being a member of the Sixth Form first football team, as well as having a superb work ethic and doing well in all his subjects. Alfie is always polite and cheerful, and is a reliable, dependable friend who will always go the extra mile.
April 2017 Year 9 Winner: Hanna Blunt
Reason: Hanna has received this award for being a devoted drama student who makes excellent contributions in lessons. Hanna is warm and welcoming towards others in group work and is a reflective student who always takes feedback on board. Hanna pushes herself to create excellent performances with excessive hard work and a dedicated attitude to succeed. As well as being an incredibly hardworking student and an elected member of Student Voice, Hanna is also extremely thoughtful and supportive of her peers and is a fantastic role model to others.
May 2017 Year 8 Winner: Scarlett Brazier
Reason: Scarlett has received this award for working extremely hard in school, demonstrating a real desire for academic success. Her extremely conscientious which aids her academic progress. Scarlett also shows great enthusiasm and engagement out of school with her Jujitsu by achieving her junior black belt in Year 7, helping to teach the lower grades to students in the kids' class and now working her way through the adult grades. She is a polite and thoughtful student, who will always go out of her way to help others.
June 2017 Year 10 Winner: Jessica Hooley
Reason: Jessica has received this award for being a pleasure to teach. For being a keen and driven student who always tries her best across a range of subject areas; for always giving 100% and demonstrating exceptional levels of behaviour at all times.