Results days 2018
23 August 2018
Charles Darwin School celebrates GCSE results
Pupils at Charles Darwin School in Biggin Hill have achieved excellent GCSE results again this year. In all, 207 pupils took GCSE or equivalent examinations in Year 11 and of these
67% achieved five A* to C grades including at least a (standard pass) grade 4 English and Maths;
41% achieved five GCSEs at least at grades 9-5
81% achieved grade 4 and above (standard pass) in English
72% achieved grade 4 and above (standard pass) in Maths
"These are very good results, the 67% 5 A*-C (inc at least a grade 4 in Eng and Maths), which may be pushed over the 68 % figure once several remarks are included is a super achievement from our talented and hardworking students" says Mr Sunil Chotai, head teacher at Charles Darwin School.
Given the national context where marking and grading of examinations (as widely publicised in the press) has become more rigorous this achievement from our students is all the more pleasing.
The overall figures of course include some outstanding individual performances, 16 of our students achieved at least 5 grades 9-7 and/or A*/A grades.
We are very pleased for all the students who have passed these important examinations, which now provides them with the ideal platform to move on to their next stage of education or training."
"We are very happy that yet again our results are good; enabling pupils to meet the minimum requirement to enable them to stay on at Charles Darwin School to continue their studies at Level 3 in our sixth form."
"As ever, this is a credit to the hard work of our students, their very supportive parents and the dedication and professionalism of the staff here at Charles Darwin School. Students of all abilities have been well-supported and achieved some remarkable results and there have been some outstanding performances from many hardworking students."
Special congratulations go to:
Ciara Fleming and Susanna Whitlock, who both achieved outstanding results in all their subjects including 4 grade 9s. There were excellent results from many other students including Nikolas Kontos, Ben Reilly, Emma Frith and Owen Cornelius-Rumsey Luc Henri Hickman, Alex Morgan, Faye Shillito, Ella Shaw, Alfie Brown, William Child, Casey Champion and Charlotte Brewster who all achieved at least five grades 7 and above.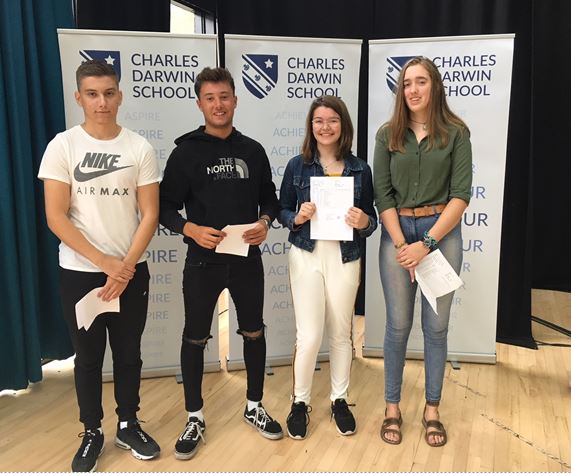 ------------------------------------------------------------------------------------------------------------------------------
16TH August 2018
Charles Darwin School celebrates super 'A' level results
The much-awaited national publication of the A level results saw students at Charles Darwin again achieve some fantastic results. Despite the well-publicized difficulties with the A level reforms and the more demanding assessment regime students at Charles Darwin have again performed incredibly well. The results received today are a tribute to the hard work and commitment of both students and teaching staff. Congratulations to all of them.
Students of all abilities took examinations in the final year of the sixth form this summer across a broad range of subjects. The overall school pass rate was an impressive 98%, of which 15% of the grades were at A*-A, 70 % at A*- C grades. This strong set of results has ensured that nearly all students have secured their university place of choice.
There were many exceptional performances from individual students, my congratulations and best wishes to all of them
Phoebe Bellfield achieved Grade in A* A A A*Art, English, History and an EPQ. Phoebe has now secured a prestigious and highly sought-after place at the world famous Courtauld Institute where she will study the History of Art.
Jemma Sergeant Grades A, A A and A* Maths, Chemistry, Biology and an EPQ. Jemma is now going to Southampton University to study Marine Biology.
Frankie Harrison: D* D* D. Level 3 BTEC Sports, equivalent to two A*s and an A at A Level. Frankie will now study Physical and Sport Education at St Mary's University London.
Jack Lineker: A A A A in French, English Literature, Finance, and an EPQ. Jack will now continue his studies with a degree course at Bath University in International Management with Modern Languages.
Laura Reilly: A* A* B B in English Literature, an EPQ, French and Drama. Laura will now study for a degree in English Literature at Surrey University.
Bronwen Sharp: A* B C C in her EPQ, History, English Literature and Government and Politics. Bronwen intends to continue to pursue her love of History in a degree course at Kent University.Georgia Gallagher: A* A C in Dance, Drama and History. Georgia has secured a place on the professional Dance and Musical Theatre Degree course at BIRD College (Greenwich).
Jack Proud: D* A B in Digital Media, Finance and Film. Jack has, with these results, secured a degree apprenticeship with BT in Accountancy.
Shahab Muhammed: D* D D Level 3 BTEC Sports, equivalent to one A* and two As at A Level. Shahab will now study for a degree qualification in Secondary PE Education at Chichester.
Akshar Patel: Maths (A), Further Maths (B) Chemistry(B). Akshar is now off to Surrey University to study for a degree in Mathematics.
Hannah Sims: A B B in Finance, Product Design and Textiles. Hannah has secured a place on the Costume and Set Design degree course at Derby University.
Sam Waddington: D* B C in Digital Media, Film and History. Sam has a place at Greenwich to study Digital Film Production.
Shannon Harris: A B C in Geography, Art and Photography. Shannon is now off to Reading to study Geography.
Ellie Jones: A B C in Communications Studies, English Literature and Photography. Ellie has secured employment in media advertising.
Ben Lambert: A B C in Government and Politics, Geography and PE. Ben has a place at Southampton to study Geography.
Jasmyn O'Brien: B B B in English Literature, History and Sociology. Jasmyn has a place at Southampton to study Criminology.
"Our key aim has been to ensure that our students cope well with the raft of changes that have come our way recently at Advanced level explained Mrs Kearney Head of Sixth Form. "I believe that this year's students who will now go on to university or the world of work have all the necessary attributes, academic and social to thrive in their chosen future paths"
Our students have chosen to study a broad range of subjects at university this autumn, we wish them all the very best for a fantastic future.