South East London Science and Technology Challenge Day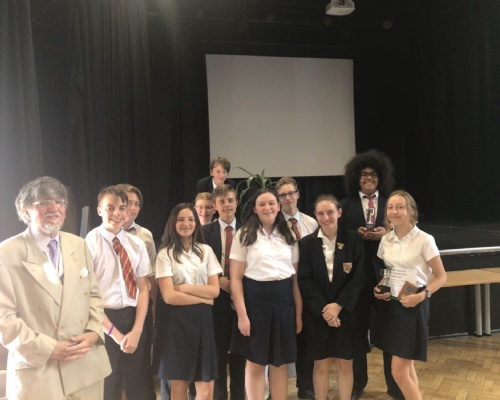 On Friday 6 July a select group of twelve Year 9 pupils, comprising Taylan Ahmet, Harley Barleycorn, Chloe Bevan, Cameron Gifford, Alfie Hudson, Kayleigh Jennings, Matthew Kenton, Niamh Robinson, Jamie Simpson, Paula Szczyrba, Riley Tuxford and Isabel Wilkins attended the South East London Science and Technology Challenge Day at Shooters Hill Sixth Form College alongside pupils from nine other schools in the South East area.
Teams, comprising two students each from two of the ten schools competing, were given three challenges [out of a possible four] and were judged on how well they worked together as a team and planned their response to the tasks as well as on how they performed.
The four challenges included: programming a light and colour seeking robot that could manoeuvre around a winding course and gain points for stopping and performing special manoeuvres on designated areas (Robot Challenge); building the fastest vehicle possible from a limited supply of connectors, axles, wheels, rubber bands and a battery (Vehicle Challenge); undertaking CPR, medical diagnostics and putting victims into the recovery position (Medical Challenge); and using police-accredited E-Fit software to create the facial image of a 'criminal' (E-fit Challenge).
At the end of the event Pieter van der Merwe Deputy Lieutenant for Greenwich presented prizes to the winning team of each of the events; stating as part of his presentation how impressed he was with the team work and skills on display. He also spoke about further education and the range of options available to have a career in a STEM sector.
Throughout the day Charles Darwin School pupils were exceptional – they collaborated well with their team colleagues from other schools and they used the skills they had developed through their science and technology classes to succeed in the tasks set them. This hard work was rewarded by success with our pupils being runners up in one of the challenges and the team with Taylan Ahmet and Paula Szczyrba winning the E-fit challenge. Furthermore, the same winning team came out as overall winners across all the challenges. They will now go forward to the London final being held at UCL in January. All participants received a certificate, winners received plaques or cups celebrating their success, and we were also presented with a cup for the school for having the overall team winners.
It was fascinating watching our pupils through the day, observing the different strengths they brought to each of the (very varied) challenges and seeing how they dealt with being placed in teams with unknown pupils from other schools – a situation they coped with extremely well and which augurs well for similar situations they will be faced with when they leave school. My thanks go to Dr Piercy for organising our participation in the event and also to the pupils involved for their outstanding contribution to the day and their amazing representation of the school.
Mrs Mackay