Mud run raises £500 for partnership school in Zanzibar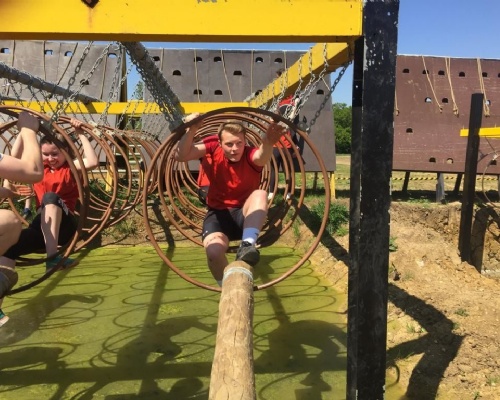 On Monday 7 May, 78 students, parents, friends, staff and members of the local community took part in a Nuclear Races' "mudstacle" event to raise much needed funds for our partnership school, Kojito Upele in Zanzibar. Year 10 students who took part also raised funds for their chosen charities this year, Mind and Rainbow Trust.
The Nuclear Races course uses both natural and man-made obstacles on a 1,600 acre site in Brentwood, Essex. On arrival, the 78 participants were divided into three groups to complete the course which featured a number of muddy obstacles, a death slide and a zip wire. The activities are suitable for all fitness levels and demonstrate the importance of communication and teamwork.
The money raised for Kojito Upele will supplement funds raised by Year 8 this year and Year 10 last year to provide much needed resources for the school. Twenty Sixth Formers will be visiting Zanzibar in July and whilst there, they will be teaching and carrying out community work to support the students of Kijito Upele. The school has over 3,900 students, aged from seven to fifteen years old, with up to 200 children taught in each classroom, learning without tables and chairs, sitting on the floor.
"Although the most important work we will carry out whilst we are there is teaching," explains Miss Miller, mud run organiser, "we would like to be able to take some resources for the school and to support our teaching. Any little extra help will make such a difference to this community."
The event had to be postponed in March due to severe weather conditions, but the warm weather on bank holiday Monday made the plunge into cold water on the death slide a much more attractive proposition.
"It genuinely was amazing with such a positive atmosphere," concluded Miss Miller, "and I was so proud of all of those involved."
If you would like to make a donation towards these resources please visit our fundraising page at
https://www.fundmytravel.com/campaign/kY5wXmXy5D