Year 9 boys crowned Bromley district cup champions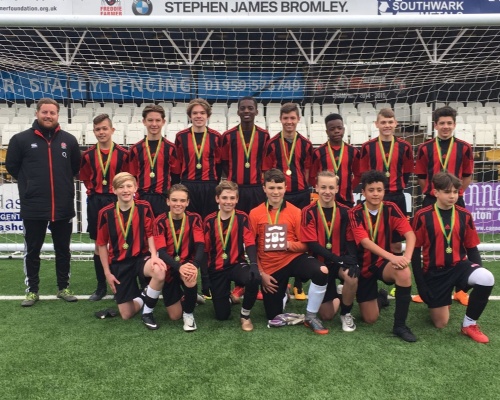 ​On Monday 30 April the Year 9 boys travelled to Bromley Football Club to play Coopers School in the Bromley District Cup final.
"It was clear on the journey that the boys were a little anxious, but they were able to walk around the ground and the facilities to soak up the occasion and settle their nerves," said Mr Simpson, team coach.
The game had an edgy start with Coopers dominating possession and getting a few good chances under their belts. A long goal kick by Oliver Goodchild was picked up by Tom Leahy, after a mistake by the Coopers defence, who finished neatly to make it 1-0. This gave the boys a boost of confidence and 1-0 quickly became 4-0 with Jacob Brooks, Emmanuel Obeng-Boateng and Daniel Grace all getting on the score line. Coopers responded with a goal shortly afterwards but Tom Leahy restored the four goal cushion before half time to make the score 5-1 to Charles Darwin School. The half time message from coach, Mr Simpson was to keep playing hard and push for more goals.
The team took this advice to heart and kept playing hard during the second half with the game finishing 9-2. Jacob Brooks and Emmanuel Obeng-Boateng both scored one more each. But the man of the match Tom Leahy scored two more to make his tally for the day four.
"Tom was superb, but the team performance was most impressive," said Mr Simpson. "The boys fed off each other's confidence and it turned out to be a great occasion. Thank you to all the parents who travelled to the match and supported their boys throughout the game. I firmly believe these boys can now push on and compete for more trophies in the years to come. If they display a positive mental attitude and work hard at their fitness and football ability they could all go on to achieve great things."
"Thank you to everyone who took the time to support our youngsters on this important occasion," added Mr Chotai "and my congratulations to the team - clearly their hard work has paid off with a great win in this competition."