U13 girls win Bromley Cup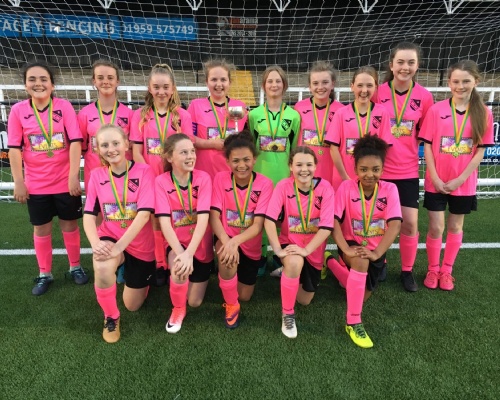 On Monday 23 April the U13 girls football team returned to Bromley FC to compete in the Bromley Cup Final against Haberdashers Askes Knights Academy. Having triumphed in the Kent Cup in March, our girls were confident from their previous experience on the first team pitch and looked to use this to their advantage over their opponents.
After a tight first half with opportunities missed by both teams, the girls continued to battle hard and push forward. Emma Spear scored two goals in quick succession, whilst a couple of fantastic saves by our goalkeeper Sophie Richardson ensured we saw the rest of the game out and secured the win. Final score 2-0 and this team finish the season as double cup winners; both borough and county. Congratulations to the team; Izzy Franklin, Emma Spear, Amber Boswell, Geena Wood, Sophie Richardson, Nanci Powley, Matilda Dryden, Tallulah Botton, Siobhan Dwyer-Burchill, Adela Slegrova, Lacey Morris, Georgina Walker, Evie Williams and Savannah Howell. I am one very proud coach!
Also thank you to our sponsor, Tinseltown Events for the new kit to wear at the final and take on tour with us in the summer.
Miss Curwood