Students make a splash in Biggin Hill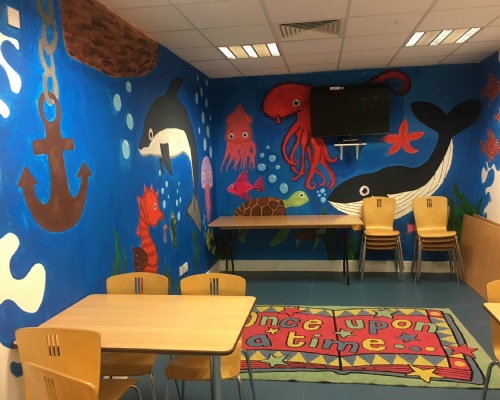 Last year Miss Miller, head of creative arts was approached by staff at the Biggin Hill Memorial Library and Pool regarding a project to make the children's party room there more interesting and engaging for visitors.
Miss Miller offered the opportunity to two talented A Level students and Hannah Sims and Tiannion Richards, now in Year 13, led a team of artists who worked on transforming the look and feel of the space over the summer holiday.
The party room has windows overlooking the pool and it was an obvious choice to develop this link with water. An ocean-themed painted mural, featuring sea creatures now adorns the walls.
This project is not only a valuable contribution to the local community but will be very useful experience for Hannah Sims and relevant to her future career plans as she is applying to study set design at university.
https://www.better.org.uk/library/london/bromley/biggin-hill-library