Twas the Night before Christmas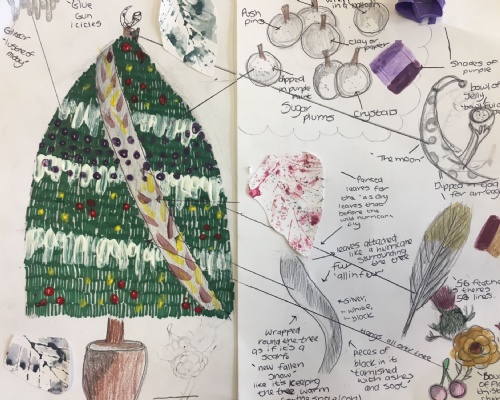 A group of students from Years 7, 8 and 9 put their game faces on in the week before half-term and entered the Royal Horticultural Society's Christmas Tree Decorating Competition which is open to all primary and secondary schools (up to age 16) from the south east of England and London.
Students were tasked with designing decorations for a Christmas tree based on the poem 'A visit from St Nicholas' by Clement Clarke Moore, sometimes known as 'Twas the night before Christmas'.
The students gathered together for an after-school session to explore a range of creative ideas - looking for hidden visual gems within the poem. Students took inspiration from phrases such as 'dancing sugar plums' and 'tarnished with ashes and soot'.
"Four teams worked tirelessly that week to create some exceptional designs," said Miss Miller, Head of Creative Arts.
Well done to all involved for their hard-work, creative ideas and for engaging so wholeheartedly with an activity purely for pleasure: Madeline Broadley, Amy Coop, Elizabeth Davis, Rosie Smith, Havana Garcia, Amy Glossop, Kirsty Hunt, Abbey Leonard, Rebecca Cook, Nicole Ingleby, Freya Jones, Kelsey Pullin, Eleanor Reilly, Scarlett Brazier, Amelie Warner, Eloise Dedier and Daisy Angiolini.
"I would like to thank Mrs Haywood and Sixth Form students Amy Black, Natalia Ovchinnikova and Lauren Riddle who supported students in the after-school session.
Over half-term we had the exciting news that the judges had selected the Year 8 design to take forward. Students now have until 6 December to create all the features of their design before we travel to Wisley to decorate the seven foot tree which will be on display until 6 January.
For the first time, this year there will be a people's vote for visitors at Wisley to select their favourite tree. So if you are making a trip to Wisley gardens over the festive season please pop along, see our tree and cast your vote for Charles Darwin School in the People's Choice.