Sports Awards 2017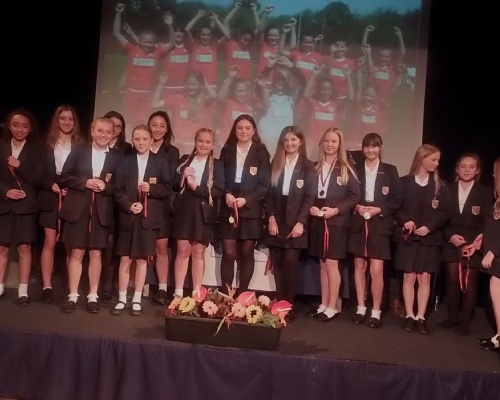 The annual Sports Awards on October 5 was a fantastic evening, when over 250 pupils, parents and staff celebrated individual and team successes from the 2016-17 season. Lots of sporting colours, medals and trophies were presented and collected over the course of the evening.
We were joined by former Charles Darwin School student, ex-professional footballer and Sky Sports presenter Scott Minto.
Scott left school in 1988 to become a professional footballer and made 220 appearances for Charlton Athletic and England U.21's before transferring to Chelsea, where he won the FA Cup in 1996/97. Scott joined Benfica in Portugal and in 1999 he returned to sign for West Ham United in a deal worth £1,000,000. Injury finally led to the end of his playing career and Scott now works for Sky Sports as the lead presenter for their coverage of the English Football League.
Scott gave a hugely motivational speech that will hopefully inspire our students to strive for even greater success in the years to come.
Particular congratulations go to the following students:
KS3 Girls Performer of the Year - Kadelia Wilkins
KS3 Boys Performer of the Year - Harry Shotten
KS4 Girls Performer of the Year - Kristiana Vani
KS4 Boys Performer of the Year - Harry Pointing
KS5 Girls Performer of the Year - Toni Abiodun
KS5 Boys Performer of the Year - Alfie Leighton
Girls Team of the Year - U13 Football Team
Boys Team of the Year - U15 Football Team
James Marshall Award - Lucie Monk
We are looking forward to another year of sporting success.
The PE Department