A Level results 2015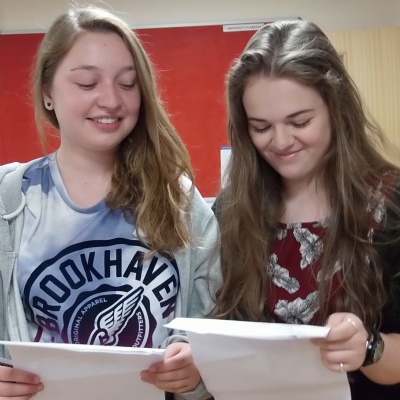 A total of 100 students at Charles Darwin School took A2 examinations this summer across a broad range of subjects. The overall school pass rate this year was 98%, of which 76% were at grades A* to C and 22% achieved an A* or A grade.
"Although slightly fewer top grades have been awarded nationally, the results at A* to B grades for students at Charles Darwin School show a positive and improving trend and compare very favourably with the national figures," head teacher Mr Chotai commented.
As usual, there were some superb performances from individuals and special congratulations should go to Chloe Marie Wheeler [AAA] who secured a place at Southampton University to study Sociology; Grace Began [AAB] who takes up a place at Leeds University to study Radiography; Leah Sims [AAB] who will go on to study Art at Norwich University; Tom Mills [ACC] who takes up a place at Reading University to read Maths; George Brimble [BBB] who goes on to study Economics at Kent University and Lauren Wilson [BBB] who secured a place at Brighton University to study Biomedical Science.
"I am delighted that our Sixth Form students have again achieved some fantastic results, which build on the successes of previous years and are a tribute to the dedicated hard work and commitment of both students and teaching staff," continued Mr Chotai.
"Our key aim has been to create successful independent learners with adaptable and transferable skills," explains Mrs Green, head of Sixth Form. "I believe that this year's students who will now go on to university have all the necessary attributes to thrive in their undergraduate studies".