Students celebrate A Level results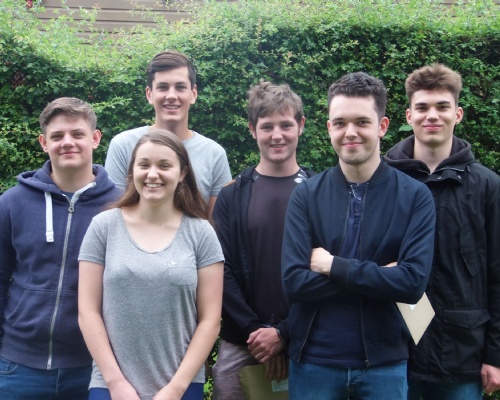 Our Sixth Form students have again achieved some fantastic grades," says head teacher Mr Sunil Chotai. "The results received today are absolutely outstanding and they are a tribute to the hard work and commitment of both students and teaching staff in a year that has again seen considerable national volatility."
Students of all abilities took a total of 315 examinations in the final year of the Sixth Form this summer across a broad range of subjects. The overall school pass rate was 98%, of which 37% of the grades were at A*-A, 62 % at A*- B grades and 83% were at grades A* to C.
"We are pleased with the performance of our students, and my congratulations to all of them," continues Mr Chotai. These wonderful grades should stand them in very good stead as they make their journeys to university or into the world of work and apprenticeships.
"There were many results that indicate superb performance from individuals, and special congratulations go to Shane Ward [A*, A*, A and an A* in the Extended Project Qualification] who takes up a place at Bates College in America under the USA's Liberal Arts Programme; Matthew Styles [A*, A, A and a B in the Extended Project Qualification] who has secured a place at Durham University; Fergus Meehan [A*, A, B] who goes on to study at the London School of Economics; Ross Adams, Michael Beegan and Alfie Leighton, all achieved A, A, B and have secured places at Bristol, Loughborough and Southampton respectively. In addition, Sam Bingham [A* A* B] and Nathan Blair [A*, A, A] remained focussed on their studies despite receiving unconditional offers. Students taking vocational subjects also did well: congratulations to Parris Johnson on achieving three Distinction* grades to secure a place at Brunel University; Katie Ellis [two Distinction * grades and an A]; Tom Adkins [two Distinction * grades and a B].
"I believe that this year's students have all the necessary attributes, academic and social to thrive in the future", said Mrs Green, head of Sixth Form. "Our students go on to follow a diverse range of career paths from traditional academic university courses and sports programmes to an apprenticeship at the National Audit Office and training at the Royal Veterinary College."
"My congratulations to all our students who leave Charles Darwin School not only with their qualifications but with the maturity and confidence to take their place in the adult world." Mr Chotai concluded.