Students create swan sculpture from recycled plastic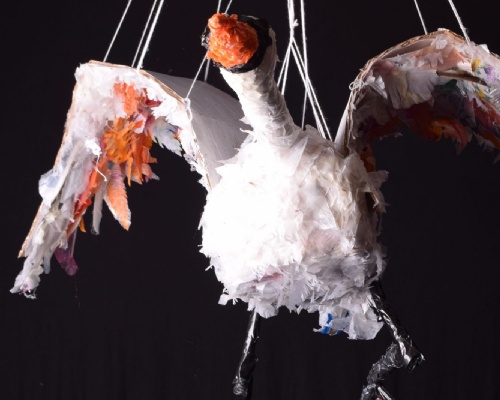 On 27 and 28 June 2017, 17 students from Year 8 in Charles Darwin School took part in the Rivers of the World project, working off-timetable during a two day workshop with Ms Shona Keith - a visiting artist - and members of teaching staff from the art department.
The 'Rivers of the World' project is designed to connect classrooms across the world by focussing on a river close to them. Charles Darwin School has been partnered with Yaba College of Technology, in Lagos, Nigeria.
"During two preparation sessions we explored the Thames - finding out key information and historical facts about the functions of the river," explains Miss Miller, head of creative arts.
"We have also considered the impact humans have on the river and more importantly how our use of plastics is impacting on the different types of species in the river. We decided to focus our piece of art on the amount of discarded plastic which is now, sadly, often found inside wildlife."
The students used only recycled materials to create beautiful heat pressed feathers which in turn were combined to construct an elegant swan coming in from flight.
"The students worked impeccably as a team, which is often a hard skill to master," continued Miss Miller. "They spoke maturely about the issues raised, at the same time as having to problem-solve and learn to eliminate less successful pieces for the good of the final sculpture."
All the individual pieces made were photographed and will form part of a 2D image. This piece of art will then be exhibited along the Southbank, London during the summer months, as well as along the River in Lagos. Students will also be invited to a private view in City Hall - home of the mayor of London in early September.