Year 12 geographers visit geological treasures on the Jurassic Coast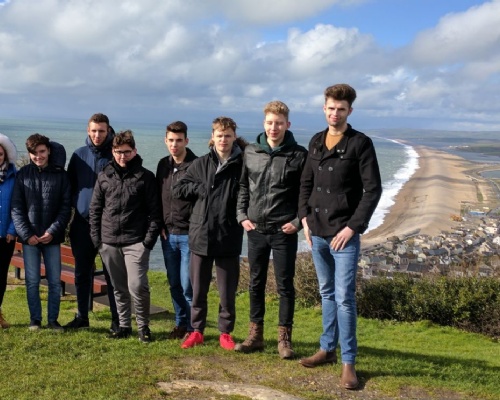 Year 12 geography students recently completed a residential field trip to Dorset including visits to Bournemouth, Studland sand dunes, Barton on Sea and Lulworth Cove. The trip provided the students with the opportunity to gather data for their independent investigation focusing on two of the topics they have been studying: coastal landscapes and rebranding.
Although Charles Darwin School is set in the green belt, visiting the Jurassic Coastline was a pleasant change to normal school surroundings allowing the group to enjoy fresh sea air and beautiful panoramic views.
Lulworth Cove is a stunning location and one of the world's finest examples of this landform. Coupled with nearby Durdle Door—a natural limestone arch—these striking features of the Dorset landscape helped the students to visualise and advance their knowledge of the geological processes which created this famous coastline.
"The aim of the trip was to develop our understanding of independent investigations and to collect data from places such as Studland sand dunes where we had a guided tour by the chief ranger about caring for this important habitat," said Ryan Coppard.
Slumping [a type of cliff collapse] at Barton on Sea showed the extent to which humans are vulnerable to the forces of nature whilst Sandbanks, a peninsula situated in the mouth of the world's second largest harbour, provided a vivid illustration of the problems associated with sea level rise.
The trip also encompassed urban investigation into how Weymouth and Bournemouth were being regenerated—a topic about which members of the local communities had varied opinions.
Now the students will be using the information they collected to complete their own independent investigations, spurred on by memories of the trip, the beautiful sea views from the hotel and Mr Jones and Mr Goss showing their prowess on the squash courts during some brief periods of spare time.