Al Jazeera hosts careers day for Year 10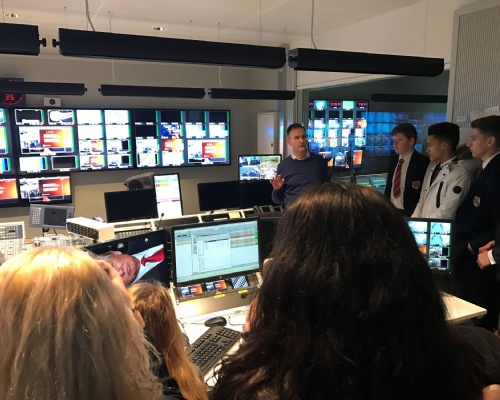 More Able Year 10 students with a particular interest in English or the media took part in a careers day in journalism, communication and TV production at the Al Jazeera 24 hour news studios.
Two of the students gave this account of the day:
On the sixteenth floor of the Shard building resides the news broadcasting team of Al Jazeera, which thirteen Year 10 students were invited to tour on Wednesday 22nd February.
We began the tour in the main control room, where video feeds are sent in and out of the London HQ. Al Jazeera's main headquarters, however, are in Doha and most of the news presented is from outside the UK. It was exciting to hear about the different stations they have across the globe, and all the different places some reporters travel to and broadcast from.
Over the day we met many employees including cameraman Otto who allowed us to broadcast film to the main control room. What I found particularly interesting is that, compared to just a few decades ago when news vans were needed to transport and broadcast from remote locations, now it is common for some reporters to go live using just a mobile phone and a selfie stick. Technology has really advanced, that's for sure.
The main event of the day, for us, was by far the news room itself. To be behind the desk where millions watch news anchors report on a daily basis; to see the enormous cameras, the remote-controlled spotlights... it was all so amazing. It felt as if you were actually on the news.
We also enjoyed the fact that we were treated like adults. We were invited into a conference room and three high-profile employees from different departments within Al Jazeera each held a conversation with us about the details of their fields. From daily news, to design, all the way to programme development: we had a better view of the variety of jobs there are in just one line of business. It broadened my mind to all the opportunities available to me.
Thank you to Al Jazeera for letting us visit your amazing headquarters: it has definitely inspired me to go forward in my career prospects. And thank you to Mr R Jones and Mr Archer for organising the day. I hope more students from our school will be fortunate enough to go on this truly insightful and inspiring trip in the future.
Ciara Fleming and Ella Shaw, Year 10