Twentieth Annual Dance Competition showcases talent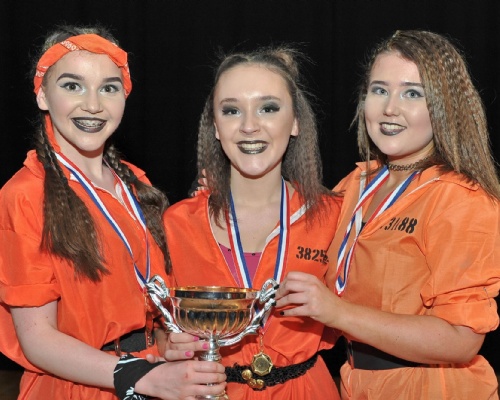 The final of Charles Darwin School's twentieth annual Dance, Choreography and Performance Competition was held on Monday 6 February in front of a capacity audience of 250 people. This year 14 different dance acts from Years 7 to 13 competed for the year group medals and the overall Key Stage 3 and combined Key Stage 4 and 5 trophies.
Mrs Rees, Deputy Head, dance teacher, event organiser and one of the judges was joined on the panel by staff members Miss Abbotts, Head of Dance and Mrs Kearney, Assistant Headteacher and music teacher. This year's guest judges were ex-student Emma Conington, who regularly competed as a student and ex Head of Expressive Arts and Head of Dance at the school, Mr Jewell, who is currently assistant choreographer for the touring musical Tommy.
Whilst the judges deliberated the audience was entertained by performances from PDM, a local dance company led by ex-pupil Megan Regan, and X-Tol, the school's more able dance group. X-Tol performed a piece entitled "The river returns with the rains", which recently won the Key Stage 3 and Key Stage 4 mixed London Youth Games Dance competition. X-Tol will be representing Bromley in the London finals at the Copper Box in March.
"I am very grateful to the members of PDM and X-Tol for their outstanding performances at the show," said Mrs Rees.
Many pupils had been working on their competition routines for months without teacher direction, choosing their own music and designing their own costumes.
"The judging really does get harder every year and this year the range of different dance styles was particularly impressive encompassing contemporary, tap and ballet as well as street dance," continued Mrs Rees, "All those that bravely took part in the show should be congratulated. I really appreciate the time, effort and commitment that went into making the competition so close."
"The night really showcased the dancing talent that we have at Charles Darwin School. Thank you so much to those who supported us on the night; Mr Andy Chubb for photography, Mr Colin Andrews for music, Mr Dan Taylor for lighting and Anna Haskins and Allana Ludgrove for backstage support.
Mostly, a big thanks to the families in the audience who supported us on the night, funded or made costumes and created rehearsal space in the lounge at home! We couldn't do it without them."