Feeding Britain's Future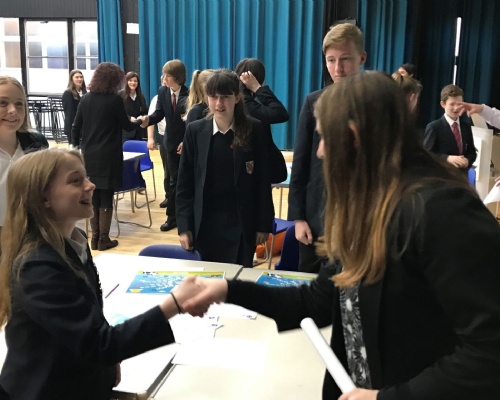 In January 20 of our more able Year 9 students took part in an IGD Feeding Britain's Future workshop led by five professionals from the food services industry.
The Institute of Grocery Distribution [IGD] runs Feeding Britain's Future, a nationwide schools programme that brings volunteers from across the food and grocery industry together to support young people at the very start of their career planning. The aim is to inspire and inform pupils, so they understand how to translate their education into skills for work while learning about the wide range of food and grocery careers available.
Students do not always make a connection between what they learn in school, the skills they develop during extra-curricular activities and the qualities which employers and universities want.
The workshop focused on developing communication skills and professional working relationships. Students were given advice and guidance on how to communicate in a confident and concise manner. The workshops also gave them the opportunity to reflect and improve on their own communication skills.
"It is really important to draw attention to the skills and experiences that students gain through extra-curricular achievements and participation in clubs," said Mr Jones, Assistant Headteacher. "These complement a good set of GCSE and A level results when applying to university, apprenticeships and the world of work."