Jack Petchey winners attend local achievement awards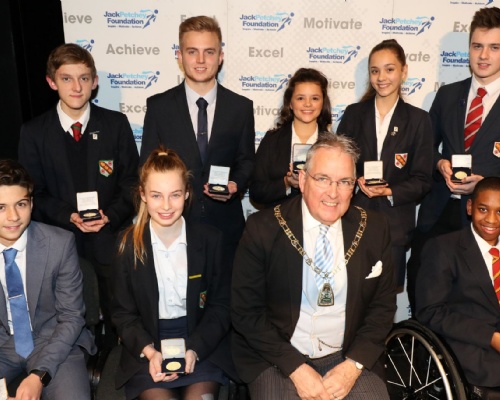 Our Jack Petchey Award winners recently attended the annual Jack Petchey Bromley School's Achievement Awards Celebration for
2015-16 at the Churchill Theatre, Bromley accompanied by Mr Chotai, Mrs Rees and Mrs Stephens.
Under the Jack Petchey scheme, students and staff are invited to nominate a pupil from a designated year group each month and then have the opportunity to vote for one of the nominations in a ballot.
As always our students were nominated for a wide range of achievements across different disciplines but a common theme is always their positive outlook and the kindness and support that they show to other students.
"The Jack Petchey Award is open to all year groups and across all subjects at Charles Darwin School," explains Mrs Rees, co-ordinator of the award. "As a Gold School, we can make nine awards during the course of the school year to recognise students' outstanding effort or achievement both in and out of school. We see this as a valuable way of recognising the efforts and achievements of pupils as well as inspiring them and developing their self-confidence. It is always a pleasure to see how many committed and motivated young people there are at the local awards."
Well done to last year's winners: Emily Wilson, Wick Wickenden, Jack Lineker; Malachi Reid, Liam Cornelius-Rumsey, Daryl Jones [unable to attend the awards], David Slade, Annelise Persson and Jack Fagan.
Congratulations also to Leah Simpson in Year 10, Saskia Hobbs in Year 8 and David Lineker in Year 11 who have won awards this year for 2016-17.