Sporting success celebrated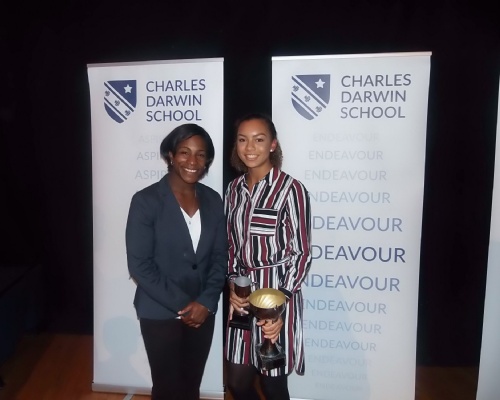 Our annual sports awards on 6 October 2016 was a fantastic evening, when families and staff were able to come together and celebrate individual and team successes from the academic year 2015-16. Lots of sporting colours, medals and trophies were presented and collected over the course of the evening.
We were joined by international rugby player Maggie Alphonsi, who played for England 74 times, scored 28 tries, and helped England win a record-breaking seven consecutive Six Nations crowns. She was also a crucial member of the team that won the 2014 Rugby World Cup for the first time in 20 years.
Maggie gave a hugely motivating speech that will hopefully inspire our students to strive for even more success in the years to come.
Particular congratulations go to the following students who won trophies or sportswoman or sportsman of the year:
At Key Stage 3:Josie Kaufman-Hill and Harry Pointing
At Key Stage 4: Holly Wright and David Linekar
At Key Stage 5: Parris Johnson and Scott Gallagher
James Marshall Award : Scott Tiffin
Kevin Hammond Memorial Trophy: Parris Johnson.
Well done to all. We are looking forward to another year of sporting success!
The PE Department