Open Morning fires the imagination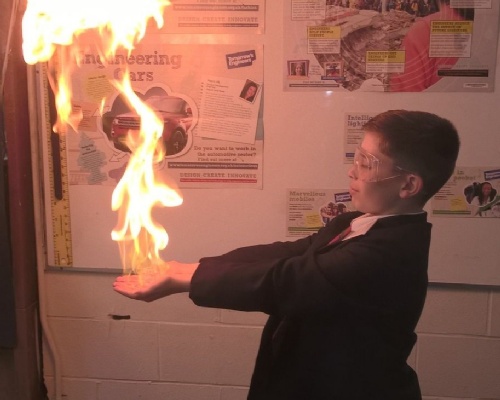 Students and staff at Charles Darwin School received around 1,000 people from 340 families at the annual Open Morning on Saturday 1 October.
"It was a pleasure to welcome so many enthusiastic Year 6 pupils and their parents to our school to see what we have to offer," said Mr Chotai, head teacher. "Choosing a secondary school is an exciting time. Parents want the very best for their child: they want a school where students realise their full potential and are successful, happy and fulfilled."
During the morning visitors could take part in or enjoy watching a wide range of activities, including quizzes for different subjects, maths puzzles, watching musical and theatrical performances spanning fairy tales through to Shakespeare, programming in Scratch and burning methane bubbles [pictured] in a fire demonstration.
The deadline for applications for students who will be applying for a place to start secondary school in September 2017 is 31 October 2016.