Students celebrate A Level results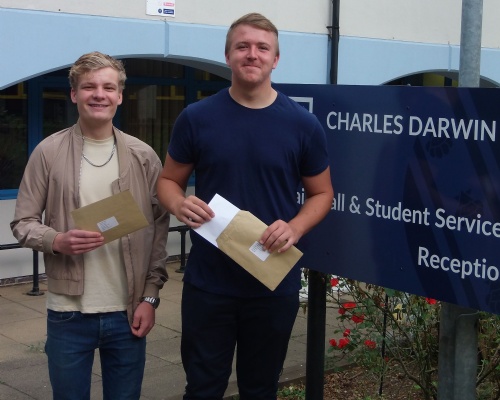 "Sixth Form students at Charles Darwin School have again achieved some very good results which are a tribute to the work and commitment of both students and teaching staff," says head teacher Mr Sunil Chotai. He praised all the Sixth Form students, staff and parents for their super efforts in a year that has again seen considerable national volatility.
A total of 85 students took A2 examinations this summer across a broad range of subjects. The overall school pass rate this year is 98%, of which over 70% were at grades A* to C and 40% at A* to B.
As usual, there were some superb individual achievements and special congratulations go to Johanna Squires [A*,A*,B and a B in the Extended Project Qualification] who takes up a place at Falmouth to study Textiles; head boy Joshua Reid [Distinction*, Distinction*, Distinction*, Distinction] who will pursue a career in Sports and Exercise Physiotherapy; Bradley Clegg [A*,A,B] who goes on to study Mathematics at Surrey University; Hilda Owusa Darkwa [A*,B,B] who has secured a place at Sussex to study History with Politics; head girl Daniella Smith [A*,B,B] who takes up a place at Southampton to study Literature and History and Louise Abiodun [A,B,B] who takes up a place at Surrey to study Law with Criminology.
Students have also scored particularly well on some individual exams. Annalene Hansen [A*,B,C, and an A* in the EPQ] scored 120/120 on her English Literature unit 4 exam whilst Shane Ward in Year 12 [A,A,A,B at AS] scored 200/200 in his Government and Politics exam. Shane also completed a placement at Yale University under the Sutton Trust Scheme this summer.
In Year 12, due to the restructuring of the A Level qualifications not all students completed eternal AS exams in every subject. Congratulations to Michael Beegan [A,A,A,B]; Christine Safadi and Matthew Styles [A,A,B] and Ellis Burden [A,A,C] amongst others.
"Our key aim has been to ensure that our students cope well with the uncertainty caused by the raft of recent changes at A Level", explains Mrs Green, head of Sixth Form. "I believe that this year's students have the work ethic and all the necessary attributes to thrive in their undergraduate studies".
"My congratulations to all our students who leave Charles Darwin School not only with their qualifications but with the maturity and confidence to take their place in the adult world." Mr Chotai concluded.