Annual Year 7 Race for life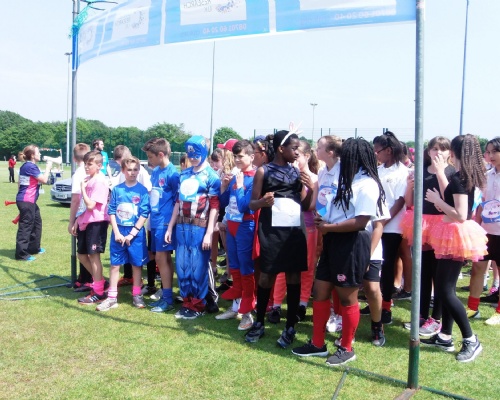 The Year 7 charity event in aid of Cancer Research UK [CRUK] held on Friday 29 May has raised just over £3,300 [so far] thanks to the support and generosity of all Year 7 pupils, their families, form tutors, the PE Department and the Pastoral Team.
The event was very well-supported with 150 attending as spectators of the balloon release and Race for Life in fancy dress. Each Year 7 form group also ran a stall, raffle or traditional game raising almost £570.
All pupils in Year 7 had taken home a CRUK tube to fill with 20p pieces and this alone raised £822, whilst the balloon release generated £115 .
"We see fundraising as an important way of encouraging the students to empathise with others and identify with social issues," said Mrs Wheeler, Transition Manager for Year 7 and organiser of the event. "It is an integral part of our pastoral programme in all year groups and it is inspirational to see how generous the Year 7 pupils and their families have been."