Year 9 Rugby team end season in style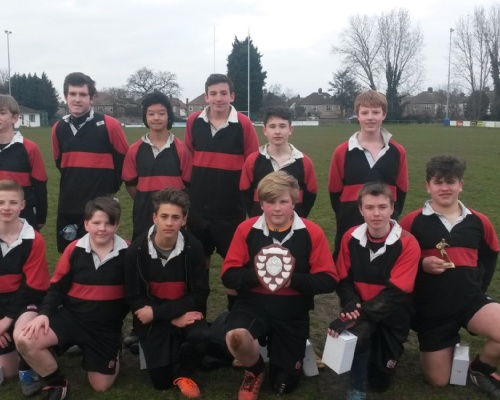 The Year 9 Rugby team competed in the annual Bishop Challoner 10's tournament this week. The team lost their first game 10-7 to a very strong Ravensbourne side, with Harry Shotten playing up a year for the first time, scoring a last gasp try. Our defence was outstanding, only conceding two tries to a team which had previously beaten us convincingly.
In the second game the boys lost heavily to Farringtons. It later transpired that Farringtons had mistakenly brought their Year 10 team to the Year 9 tournament.
In our final game we beat Bishop Challoner B team 45-5 with a lot of boys getting on the team sheet including Vinny Hart and Rhys Pullin.
The impressive score, combined with the fact that Farringtons had fielded a team from the wrong age group meant that we qualified for the Shield final against Darrick Wood School.
Maybe it was the lack of fear or the fact that we were tired of losing, but the boys dominated Darrick Wood from the whistle and ran in three tries winning 15-0. Ethan Hollands scored his first try for the school and Thierry Skillern scored two 60 metre tries, outpacing the defence and showing his true potential. Well done to all involved, I am hoping this is the spark we need to go on to greater success in next year's cup competitions. Harry Shotten in particular (playing up a year from Year 8) was our man of the tournament. His tackling, running and kicking inspired the Year 9's to do more each game.