Year 10 raises over £1,000 for BHF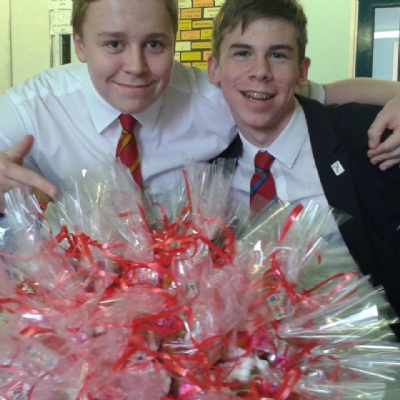 Some Year 10 students formed a highly efficient lunchtime production line to create themed Valentine's Day sweet cones to sell in aid of the British Heart Foundation.
A big thank you to Maciek Szczyrba, Tom Dawkins, Scott Tiffin and William Dalgleish for their hard work which raised over £220.
Secondly, a huge thank you to the staff and students who took part in my Half Marathon Time Sweepstake, which raised over £125 for the British Heart Foundation. My official finishing time was 2:17:43 and the winner, with the closest time, was Mr McPhun, who has very generously donated the £30 prize money back to the charity. Congratulations to runners up
Mrs Herd and Tom Buck 7ASa. Thanks also to Anna Haskins, Katie Morgan, Jamie Garrard, Liam Casey, Maciej Szczyrba, Marie Jennings and other Year 10 Student Voice members who helped to raise the money.
This, together with my on-line London Marathon sponsorship brings the total raised for the British Heart Foundation so far to £1077.45.
The hard work continues as I prepare to run the London Marathon in just over eight weeks' time. Watch out for the next sweepstake!
Miss Banyard