Oxford Pathways taster day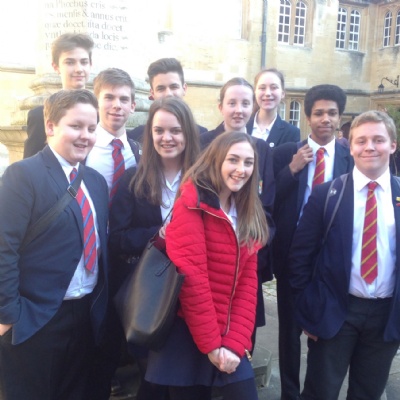 More able students in Year 10 took part in an Oxford University's Pathways taster day, designed to give academically able students a chance to visit Oxford and get a flavour of what it would be like to study there.
Dating back 500 years, Corpus Christi College has both stunning buildings and impressive alumni including famous politicians, writers and academics
"Our students walked through these hallowed halls and experienced first hand the lives of the undergraduates who live and study here," explained Mr Jones. "After the tour, we dined alongside students and lecturers in the sumptuous surroundings of the late-medieval hall, before visiting the university library. Seeing students deep in research was quite inspirational and we came away with a sense that learning is hard work, but intensely rewarding," he continued.
Maciej Szczyrba, Chloe Bezer and William Dalgleish did not want to leave, opting instead for a seat at the research benches. The afternoon also included a theology lecture.
"For the uninitiated, theological musings on Patristics, and the controversy between the first and second Nicean doctrines and the rise of Arianism from 325-381AD might be brushed aside as intellectual ideology, but not by our students! Taking on board the evidence provided to make assumptions and judgements, they listened attentively and were able to contribute positively to the lecture, particularly Bradley Parke who became really involved. We were all impressed by the way everyone was able to stretch themselves through research and sharing ideas with like-minded individuals in their own area of study/interest. We gained a real sense that a university, even one as prestigious as Oxford, is a place where you can learn and discover without barriers. We would all like to have spent more time there," concluded Mr Jones.