Dance competition 2016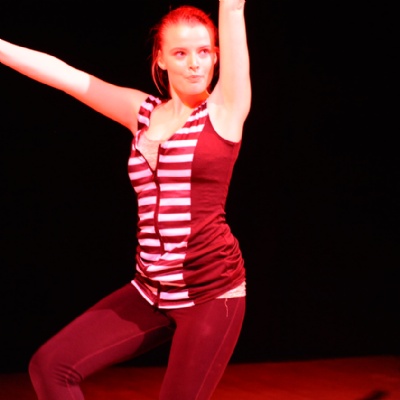 The final of Charles Darwin School's nineteenth annual Dance, Choreography and Performance Competition was held on Monday 8 February in front of a capacity audience of 250 people. This year 15 different dance acts from Years 7 to 13 competed for the year group medals and the overall Key Stage 3 and combined Key Stage 4 and 5 trophies.
Mrs Rees, Deputy Head, dance teacher, event organiser and one of the judges was joined on the panel by staff members Mr Jewell, Head of Expressive Arts and Mrs Kearney, Assistant Headteacher and music teacher. This year's guest judges were ex-student Rachel Dixon who is currently training in Dance at Laban and Mrs Chloe Gill who trained at Laine Theatre Arts in Epsom and has also toured with the New English Contemporary Ballet company.
"We were particularly fortunate to have Chloe on our judging panel this year," said Mrs Rees. "She has such a wealth of experience, having danced professionally on TV shows such as X Factor, Britain's Got Talent and the Brit Awards, as well as for artists such as Beyoncé, Jessie J and The Saturdays. Chloe is used to interpreting and developing modern dance in a way our students relate and aspire to and her comments were most insightful during the panel's discussions on originality, choreography techniques, the difficulty of the routines and performance skills."
"I thoroughly enjoyed being asked to judge the Charles Darwin School Dance Finals 2016," said Chloe Gill. "The standard was exceptionally high and l was extremely impressed with the variety of choreography inspired by the students themselves. A brilliant evening overall."
Whilst the judges deliberated the audience was entertained by performances from Amber Adkins who is now in her first year studying dance at Roehampton University and PDM, a local dance company led by Megan Regan, another ex pupil.
"I am very grateful to the members of PDM and Amber for their outstanding performances at the show," said Mrs Rees.
Many pupils had been working on their routines for months without teacher direction, choosing their own music and designing their own costumes.
"The judging really does get harder every year and this year the standard was particularly high," continued Mrs Rees, "All those that bravely took part in the show should be congratulated. I really appreciate the time, effort and commitment that went into making the competition so close."
"The night really showcased the dancing talent that we have at Charles Darwin School. Thank you so much to those who supported us on the night; Mr Andy Chubb for photography, Mr Colin Andrews for music, Miss Fran White for lighting direction and ex-student Miss Emma Jewell for stage management.
''Mostly, a big thanks to the families in the audience who supported us on the night, funded or made costumes and created rehearsal space in the lounge at home! We couldn't do it without them."
The winners were
Year 7 medal winners:
Natasha Swanson and Amelie Warner
Year 8 medal winner:
Annelise Persson
Year 9 medal winner and Key Stage 3 cup winner:
Jessica Greenslade
Year 10 medal winners:
Katie Nolan and Chloe Bezer
Year 11 medal winners:
Melissa Quinn and Kirsten Skinner
Year 12/13 medal winners and KS 4/5 cup winners:
Ellie Griffin, Jordan Quinn Hillier, Molly Regan, Kate Welch and Jessica Woods