Celebrating International Women's Day - Women in STEM at Formula One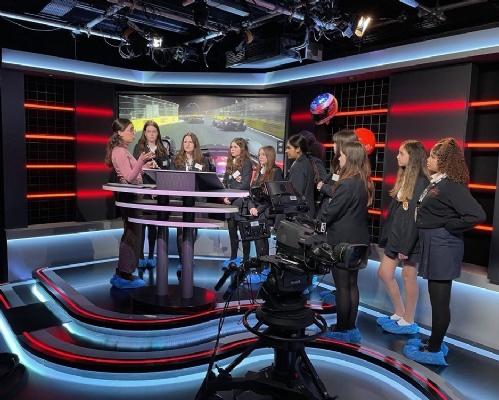 Last Friday ten girls from Year 10 and myself we were fortunate enough to be invited for a tour around the F1 Media and communications building in Biggin Hill.
The tour also included talks from a number of women in the F1 sector including a Production Executive, Social Media Executive, IT Security Analyst and Mechanical Apprentice. The day was to celebrate International Women's Day and to show young women the types of STEM based carers available to them.
During the day we were able to see the incredible media suite where camera footage and radio recordings are edited as well as seeing an F1 car and listen to a recorded message from F1's CEO Stefano Domenicali.
The highlight for me though was the F1 television studio and way in which all of our girls overcame any nervousness to sit in front of the cameras and answered some questions about the day. This took an enormous amount of courage and composure and they were all amazing.
A huge thank you to the whole team at F1 who made the day so special. Hopefully, the trip will be the start of a close partnership with the school which will lead to more of our students having the same opportunities that the girls had.
J. Simpson