History Trip to Krakow, Poland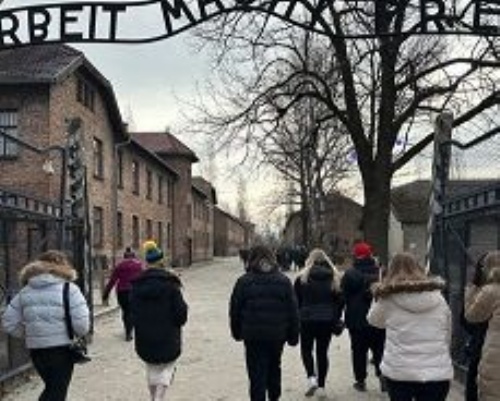 On 9 February 2023 the History Department took 40 GCSE and A level History students to Krakow , Poland.
The trip started with a walking tour of Krakow which included some of the locations where Schindler's list was filmed and the Jewish Quarter. They also visited the Oskar Schindler Factory and the Jewish Museum where they were given a tour detailing the atrocities that had happened in Poland.
On day three the group visited Auschwitz, walking through the gate and seeing the words "Arbeit Macht Frei" (Work sets you free). What the students saw here will stay with them for a long time.
Possibly the most poignant part of the trip was meeting a Holocaust survivor. Lidia Maksymowicz was three years old on her arrival at Auschwitz and was in the Dr Mengele experiment Block. She had survived eighteen months of hell. Her mother secretly visiting her ensured her survival, and this was her only contact with humanity. Lidia was adopted on liberation, thinking her birth parents were dead. However, in 1962 she discovered that her birth parents were alive, living in the USSR.
On the final day they visited the Wieliczka Salt Mines which was inscribed on the UNESCO World Heritage List in 1978. There are 245km of galleries, the deepest points being 327 Metres deep underground dating back from the Middle Ages.
A Big thank you to the History staff who accompanied the Auschwitz trip, Mr Lamb, Ms Ruth, and Ms Silk. The students all had a great and memorable time.
S. Davies, Joint Head of History