G & T students win Science and Technology Challenge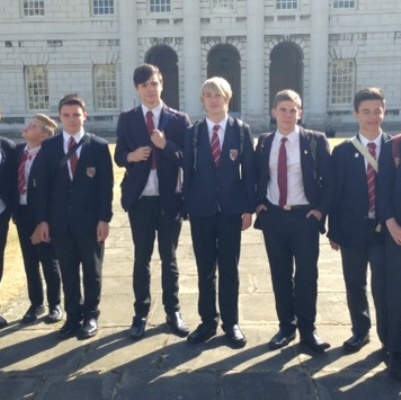 Last Thursday Will Dalgliesh, Tom Dawkins, Harry Warne, Bradley Parke, Maciej Szczyrba, Paul Nash and Jake Hartley from Year 9 and Charlotte Brewster, Ciara Fleming, Nik Kontos, Harry Pointing and Sam Angiolini from Year 8 took part in the Bromley Gifted and Talented Science and Technology Challenge Day at Greenwich University.
Teams comprising two students each from two of the ten schools competing were given three challenges and were judged on how well they worked together as a team and planned their response to the tasks as well as on how they performed.
The three challenges were: building a light and colour seeking robot that could manoeuvre around a winding course and gain points for stopping on colours; building the fastest vehicle possible from a limited supply of connectors, axles, wheels, rubber bands and a battery; building the strongest bridge possible from paper and string; and using police-accredited E-Fit software to create the facial image of a 'criminal' (having viewed the individual for only 30 seconds).
Throughout the day our pupils were exceptional," said Dr Piercy. "They collaborated well in their teams and used the skills they had developed in their science and technology classes to succeed in the tasks."
Their hard work was rewarded by success in two of the four challenges. The two teams containing Tom Dawkins and Paul Nash, and Bradley Parke and Will Dalgliesh were runners up in the vehicle challenge and Harry Warne and Maciej Szczyrba's team won the E-Fit challenge.
"It was fascinating watching the pupils," said Miss Jennifer Mahoney "who also accompanied the students on the day, "and see the different strengths they brought to each of the very varied challenges and how they dealt with being placed in teams with unknown pupils from other schools: a situation they coped with extremely well and which augurs well for similar situations they will be faced with when they leave school. Our thanks go to the pupils involved for their outstanding contribution to the day and their amazing representation of the school; they are truly gifted and talented."