Students and Staff Give the Languages Department a Creative Makeover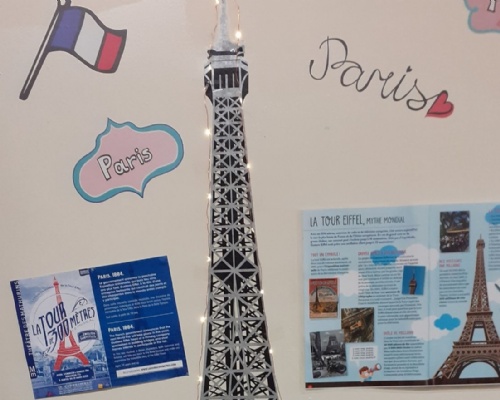 During the final days of the summer term the Languages Department had the opportunity to spend a couple of days working with a selection of year 8 pupils and the Art Department to give the corridor in the languages' area a make-over. We wanted to include as many culturally interesting facts and images as we could, relating to France and Germany and their differing cultures.
Mrs Davies organised some fund-raising through Parent Pay and ordered the relevant materials so that by the end of our work we had created the following:
A section of the Berlin Wall ; An Eiffel Tower that lights up ; A jungle scene with the animals labelled in French and German; Famous works of art ; Tongue Twisters in French/German; A chalk board with a French and German menu; A football pitch; World Map showing French/German-speaking countries ; Berlin and Paris historical information ; A diversity board and ​Photos from school trips to Strasbourg and the Christmas markets.
The feedback from pupils and staff has been really positive and it has been great seeing people admiring and commenting on the new displays. A massive thank you to all of the parents who contributed to the rescources.
Mrs E Kaye-Chubb