Summer Learning Support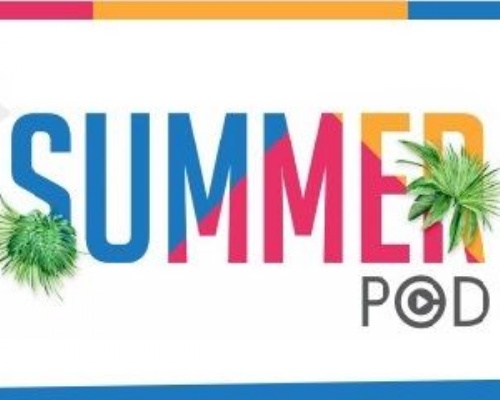 Summer Learning Support
After a tough school year many students and families will of course be looking forward to a summer break. This is an important time for young people to relax with their family and to switch off from school. This school year though has had its interruptions and understandably students and families are concerned about some lost learning time.
There are two learning platforms we would direct students and families to help look at topics and areas of work that may have been missed or not fully covered due to school closure, absence through illness or the requirements to self-isolate. Many of our students did extremely well in keeping up to date with work by taking advantage of the extensive remote learning we provided however, the resources provide an opportunity to fill in some gaps that have emerged or simply re visit topics where there is some uncertainty.
The first is provided by the Oak Academy virtual school where access to free online lessons is available. There is no need for a log in or password, students and families can click and join the appropriate lessons. Teachers at our school have identified the key topics they feel students would benefit from the most along with the appropriate links. At present these exist for English, Maths, Science, History and Geography.
The other platform is for students in Y9-11 and is GCSE Pod – please use the link below and look at the FAQs supplied by GCSEPod. Your son/daughter should have their log in for this already.
Mr Boyden, Deputy Headteacher
SummerPod Registration of Interest (typeform.com)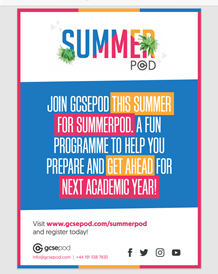 Frequently Asked Questions
Is there any cost?
None whatsoever! After a hugely challenging year, we're delighted to offer a fun, interactive and motivational programme of events to all students and parents of students at GCSEPod subscribing schools. We can't wait for you to take part!
Is SummerPod like Summer School? Will the students be taught specific subject knowledge or is it more general advice?
We are providing a small number of videos focussed on subject-specific skills, particularly in English and Maths. However, due to the huge range of subjects covered on GCSEPod and the range of students that will be taking part, the SummerPod live events and activities will be focussed on general life and learning skills such as staying organised, ditching distractions, effective prioritisation and keeping motivated. Students will be encouraged to identify and focus on their individual subject knowledge weaknesses using the self-assessment and learning features on the GCSEPod website such as Check & Challenge. Competitions and fun subject-agnostic activities will drive students to boost their knowledge and build their confidence, no matter what subject area they need to strengthen!
Is there a set itinerary/programme of events so that students/parents need to log on at a given time?
Yes! SummerPod lasts 3 weeks from the 26th July to the 14th August. Each week there will be two live events which will take place in the evening (dates and times still to be confirmed once we have firm numbers wanting to attend). One event is aimed at parents and the other is for students (although anyone can attend any event and we encourage students and parents to take part together). The events will each last 1 hour and have a live participation interactive element, a little bit like a webinar but more fun! Attendees can take part or just watch, but we encourage everyone to take part and complete the activities with the hosts. All live events will be recorded and recordings will be readily available for anyone who wants to watch on demand and catch up either during or after SummerPod.
Who is running the live events?
We have a range of fantastic hosts throughout the 3 weeks. We're thrilled to have world-class youth coach and speaker Cameron Parker leading the student events. Find out more about his incredible events here – https://www.gcsepod.com/cameron-parker-webinar/ we're also delighted to be partnership with Future Toolbox, who will be running one of the three parent events. Mark and Jules are multi-award winning motivational speakers, authors and creators of the Future Toolbox. They cover topics such as how to prepare for the next stage of your educational journey and what parents can do to best support their children through their GCSEs. Find out more here – https://www.futuretoolbox.co.uk/
Can students log on and work at their own pace? Or a bit of both?
Absolutely! A range of resources will be made available on the gcsepod.com/summerpod webpage including activity sheets and live event recordings. Students can complete these at their own pace, although a recommended route through the activities will be outlined and linked up to the topics covered in the live events.
If students/parents are unavailable for a particular period during the 3 weeks will they still be able to engage with the programme and pick up where they left off?
Yes, absolutely. All the resources, including the recording of the six live events will be available at www.gcsepod.com/summerpod
Will schools get notification if a student/parent has participated so that they can recognise their willingness to engage in the programme?
Yes! If you sign up to SummerPod and leave your name and the school you attend (or your child attends) we can ensure that the school is aware that you've taken part. All participants will also receive certificates of participation which you can show off to your teachers!
What mix of events and resources are going to be available?
There will be six live events (three for parents and three for students) which will also be available on demand as recordings. In addition there will be activity sheets, a series of short podcasts where parents share their experiences of supporting a child through their GCSEs, a Spotify playlist full of motivational songs curated by SummerPod attendees and a series of pre-recorded videos on specialist topics such as Maths and English skills for success.