Gnomes for Heroes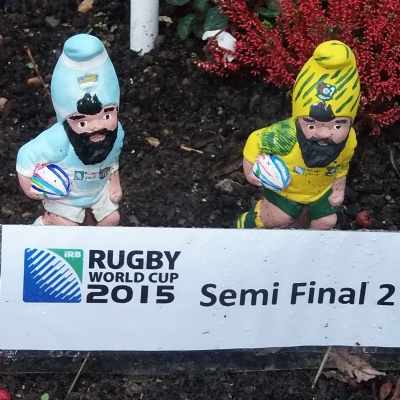 Excitement is mounting in Charles Darwin School's Rugby World Cup sweepstake with the deciding matches scheduled for October half term. But this is a sweepstake with a difference.
Mrs Adams, Achievement Co-ordinator for Year 11, spent the summer holiday creating a gnome in each of the competitor's team colours and those who entered the sweepstake will be able to take the gnome depicting the team they picked home after the tournament finishes. The person who drew the winning team will also receive a proportion of the takings with the remainder going to the Year 11 charity, Help for Heroes.
Each gnome was carefully moulded from plaster of Paris and hand-painted in minute detail. "The hardest feature to replicate was the tartan on the Scottish gnome and some of the national badges were very intricate," said Mrs Adams who created the display in the Year 11 garden for the opening ceremony of the competition which coincided with the recent Open Day for prospective Year 7 pupils and their families at the start of October.
The display featured the gnomes in their groups, with rugby posts, a ball and crowd scenes as the backdrop. Thanks to the generosity of the Open Day visitors, £30 was raised through donations to the wishing well placed in the garden, bringing the total raised by the sweepstake to £130. The total raised so far this year by Year 11 for the charity Help for Heroes is £890.
Gnomes representing nations who failed to reach the knock-out stages [which sadly includes the home nation and all the northern hemisphere teams] have been removed from the garden and are now relaxing and, in some cases, undergoing a period of intensive restoration prior to being introduced to their new owners.
Good luck to the four semi finalists: Mrs Mills, Mr Burtonshaw, Mr Chotai and Mrs Stephens who are all still in with a chance to scoop the top prize and good luck of course also to the semi finalist nations: South Africa, Argentina, New Zealand and Australia. The gnomes will all be re-homed after half term.