Walk to London raises over £4,000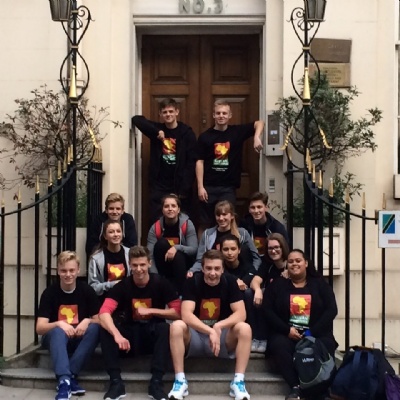 Last Sunday, ten students rose early, donned their walking boots and met at school ready to depart promptly at 8.30am for a 20 mile sponsored walk to London. Three more students joined the group en route through Bromley.
The walk had been organised by Miss Miller to raise funds for the forthcoming trip to Zanzibar in July when the students will be volunteering within the local community and working at projects in a developing area of Zanzibar in East Africa. The projects offer key support for the local population and provide local communities with food, water, education, recreation and opportunities for employment. Our students will be volunteering in one or more of the following areas: community work with underprivileged children; teaching in schools; playing and coaching football and multi-sport activities and school improvement and renovation such as painting and decorating.
In all the 20 mile walk took 9 hours and 15 minutes with small breaks along the way and the group arrived, footsore but triumphant, at the Tanzanian Embassy at 5.45pm.
"I am really looking forward to working with such an incredible group of students over the coming year," said Miss Miller, who is leading the trip to Zanzibar. "The students were just incredible and showed true determination, resilience and team-work during the day—all qualities which they will need to draw on when we are in Africa. I would also like to thank Miss Banyard, Mrs Newbery with Jack the dog and Mr Tracy who walked legs of the route with us and provided encouragement and moral support."
Well done to Adam Hellewell, Alfie Leighton, Billie Ditchburn, Elliot Smith, Holly Ferris, Kelly Hoare, Liam Cornelius-Rumsey, Lisa Constable, Matt Lucas, Morgan Rodway-Wing, Natalie Jenkins, Sophie Zevallos and Stephen Forster who raised £4110 towards this worthwhile cause.
Further fundraising events will be taking place over the coming months, including possibly a mud assault course.
Anyone who would like to contribute to the group sponsorship fund, to help the students complete their important projects in Zanzibar can do so via main reception. Contributions should be handed in, in a clearly marked envelope, to Mrs Mills at reception.