Legally Blonde's Huge Success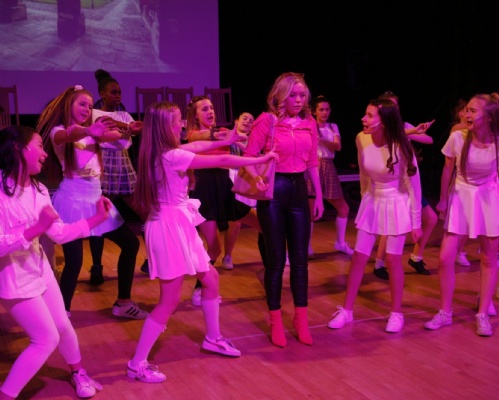 The school production of Legally Blonde took place on the 16th, 17th and 18th December. Students performed to a packed audience every night and produced an incredibly professional performance. The cast, crew and orchestra, also had matinee performances to members of the local community and to local primary schools which were also excellently received.
Legally Blonde is a tricky musical to stage with complicated location changes, challenging music to play and lots of big song and dance numbers. Students had been rehearsing for the show since September. Hours were spent at lunchtime and after school, learning the songs, perfecting dance routines, rehearsing with the orchestra, painting set and developing characterisation.
However students more than rose to this challenge, performing with energy, focus and outstanding commitment. Audience's responded brilliantly, eagerly watching Elle Wood's triumph at law school and her blossoming relationship with Emmett Forest.
The Expressive Arts faculty are really proud of all of the students involved and the hard work and dedication they put in. The success of the production was down to the efforts of a huge team; the students performing or helping backstage, the support and direction of Expressive Arts staff, parents who supported with costume and line learning and staff who came along to watch or who helped with the running of the show.
Thank you to everyone who came along to see the production and a big well done to the students for making it such a success.
Miss Currie, Head of Expressive Arts