Author Dan Boothby shares his "Island of Dreams"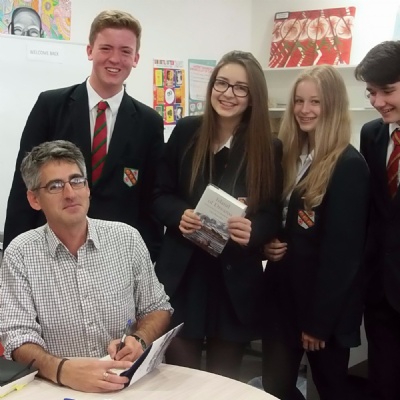 On 17 September, Charles Darwin School hosted author Dan Boothby's first school visit after the publication of his latest book, 'Island of Dreams - A personal history of a remarkable place'.
The book is based around his experience of living in Gavin Maxwell's former home on a small lighthouse island on the western seaboard of the Scottish Highlands. Gavin Maxwell wrote the "Ring of Bright Water" trilogy and Island of Dreams is about Boothby's time living in Maxwell's old home and about the natural and human history that surrounded him; it's about the people he meets and the stories they tell, and about his engagement with this remote landscape, including the otters that inhabit it.
Dan Boothby held two separate sessions and in all 120 students from Years 9 to 13 heard him read from and talk about his book. After the readings, students asked questions which ranged from queries about how to get published and what he was working on now, to questions about remote islands and loneliness.
Scott Tiffin in Year 10 commented, "It was very insightful and interesting to hear about the writing and the publishing stages of being an author and how he was determined to keep sending the book out despite numerous publishers turning it down."
Tom Dawkins, also in Year 10 said "Boothby writes well about his experiences on the island and how his life was impacted by this magical place. I think that, considering it was Boothby's first school visit, the readings went well and all of the questions were sensible and respectful of Boothby's work."
The English Department looks forward to welcoming more authors to Charles Darwin School in the future.