Charles Darwin Students Shine At Voluntary Police Cadets (VPC) Awards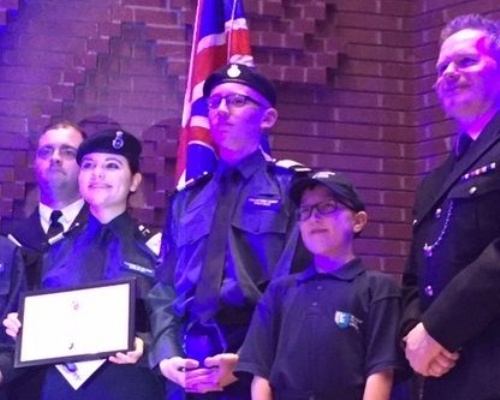 On Saturday, 2nd March Volunteer Police Cadets from across London gathered at an annual event held at Kensington Great Hall for the prestigious Volunteer Police Cadets (VPC) Awards. Attending the event as Guests of Honour were the Assistant Commissioner Helen Ball and Col. Jane Davis OBE Vice Lord Lieutenant of London.
The event honoured 130 Police Cadets, between the ages 11 to 25, for many different achievements within their local communities.
Among the winners was 12 year old Jack Maslin, from Charles Darwin Secondary School. Jack was awarded a certificate and trophy for 'Junior Cadet of the Borough of Croydon'. The award was in recognition of his commitment to attending Cadets as well as the support he has given to new Cadets joining the VPC.
Jack's father said 'he has been a Police Cadet for 2 years and joined as soon as he turned 10. Jack's father added that he had wanted to join a few years earlier but was not old enough to do so. He went on to say 'I think Jack would like to join the Police when he is older'.
Also receiving recognition at the event was Hannah Peters in Year 11 at Charles Darwin Secondary School. Hannah was shortlisted as one of the five final nominees for the award of 'Best New Recruit out of all the Boroughs' . "I felt honoured and surprised to be nominated because there are so many good people at Cadets," Hannah said, "to be recognised for something that I love doing made me happy to feel that I have made an impact and a difference".
Hannah has been in the VPC for 15 months and joined when she was 14 years old. Within her first year Hannah was promoted to Team Leader, bypassing Deputy Team Leader rank. She joined the VPC because she wanted to make a difference and hopes to one day become a criminal psychologist for the police.