Girls U14 Football Team Winners of Kent Cup Final 2019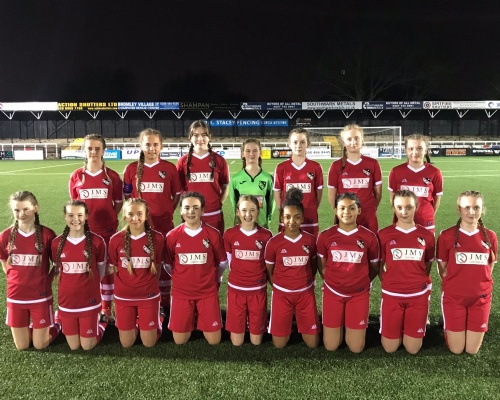 On Friday 1st March the U14 Girls Football team had their Kent Cup Final. The final this year was in the same venue and against the same team they played last year, Highworth Grammar.
The girls were excited but extremely nervous feeling the pressure from the build-up of the game. The stadium was full of our supporters who were ready for the game ahead creating a great atmosphere. In the first half the girls kept their heads in the game but struggled with their nerves. We went into half time 0-0, knowing that the second half had to be stronger and we would need to commit to every ball.
We started the second half strong keeping the ball in their half. In the second half the girls dug deep, worked hard and kept their focus. Our striker Emma Spear scored the first goal, which automatically boosted the girls' confidence. The second goal came from a long kick from the half way line towards goal from our Captain Izzy Franklin, this was deflected off the goal keeper and went in. Highworth Grammar did not give up and kept coming back at us but the girls defended well to resist any goals being close. Amber Boswell in defence had the game of her life and was the player of the match for the final.
"The U14 girls football squad have been fantastic this year, their development and growth as a team has clearly been seen throughout the season" said Miss Case, Head of PE. "To win the Kent Cup for the second year in a row is a fantastic achievement and we are so proud of all the girls who have been part of this journey".
Thank you to all the staff students and families who came to the game and supported the girls during the final.