charles darwin school Commemorates 100 years since the end of World War One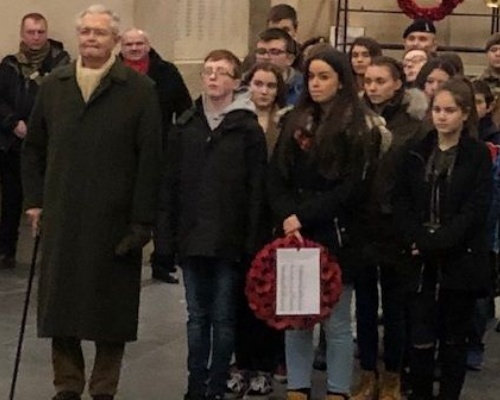 On 9th February 2019, pupils and parents visited the battlefieds around Ypres in Belgium to commemorate 100 years since the end of World War One. Mr Lamb, trip organiser and lead, gives his own account of the day.
At 4.40am on Saturday 9th February a mixture of pupils and parents, along with Mr Lamb, Ms Zysemil and Mrs Ruth, clambered aboard the coach which was to take us to the battlefields of Ypres for the day. We visited a number of sites, with the first stop being Sanctuary Wood Museum. This musty old museum has a wonderful selection of artefacts and debris whilst outside are the original trenches and tunnels which, with our wellies securely on our feet, we were able to explore. Even some of the trees still bear the original shell and shrapnel marks from some bitter fighting here in 1915.
Our next stop was Tyne Cot Cemetery, the largest Commonwealth cemetery in the world with over 11 000 graves and a large memorial to 35 000 named missing soldiers whose bodies were never recovered. The cemetery really brings home the scale of destruction and the huge cost in lives that the First World War generated. Following Tyne Cot we stopped at the dark and foreboding German cemetery at Langemark, where in one tiny patch of grass lie the remains of 25 000 soldiers.
We visited a number of other sombre sites around the town of Ypres, which in all saw 250 000 British and Empire troops killed in a twenty mile square piece of land. Many of these young men having no known grave. Following an evening meal together we went to the Menin Gate and witnessed the extremely moving Last Post Ceremony. We were given the privilege of laying our wreath during the ceremony, which contained the names of young men who perished in the First World War but went to school in the Borough of Bromley.
Arriving back to school at 1am on Sunday morning, it had been a tiring but hugely rewarding day, in which some pupils had actually found the names of their relatives on the memorials, who had died fighting at Ypres. The pupils were a credit to the school and I would like to thank the parents who came along and supported this community initiative.
Mr Lamb