Charles Darwin School Runners up in London Youth Games Dance Competition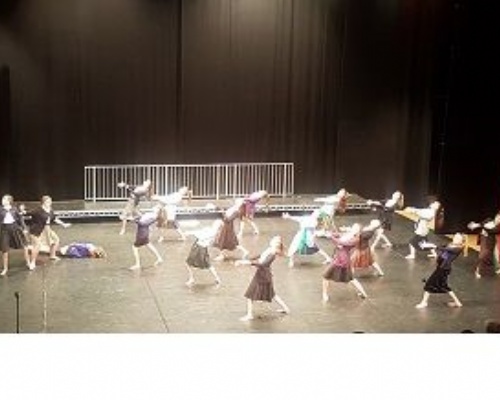 Congratulations to Charles Darwin School Dance Company, Thrive, who came 2nd place in the London Youth Games Dance Competition on Wednesday 30th January at Langley Park School for Boys , Beckenham, where individual schools from across the borough competed against each other for a place at the London Finals.
One hundred years on from women being given the right to vote in the UK, their piece, 'Suffrage', draws inspiration from the historical events surrounding the Suffragette movement in England. Celebrating the achievements and sacrifices of the women involved, the group have researched historical figures bringing them to life in solos, duets and group work using contemporary dance. It explores the strength of the women and the power of standing together as one. The piece culminates in the tragic event of Emily Davison being killed by the King's Horse at the Epsom Derby.
Although the group consisted mainly of KS3 dancers they were entered into the challenging KS4 category as three of the dancers were in Year 10. This meant competing against older and more experienced dance students. They competed against some very technical and eye-catching performances, however, despite the challenges they faced, they were awarded second place out seven schools, within the KS4 category and just missed out on first place to Hayes School, with Charles Darwin scoring 69.5 and Hayes scoring 70.3.
The judges were very complimentary not only about the students' performance but also the complexity of the choreography, which was done by Amy Robinson (the step into dance teacher), the dancers and Miss Abbotts (Head of Dance).
Miss Abbotts Head of Dance said: 'unfortunately we did not qualify to perform at the finals and represent Bromley, however I am immensely proud of the girls as they competed against older students and to be so close to coming first is a huge achievement. Well done to all.'
Dancers were:-​
| | | |
| --- | --- | --- |
| Sophie Hanlon - Year 7 | | Emmy Vince - Year 7 |
| Jessica Grace - Year 7 | | Gaby Mitzeva - Year 7 |
| Jeyan Basaran - Year 7 | | Megan Wood - Year 8 |
| Olivia Persson Year 7 | | Daisy-May Kittelty - Year 8 |
| Amy Coop - Year 8 | | Keira Dukes - Year 8 |
| Olivia Howe - Year 8 | | Gracie Watton - Year 8 |
| Abbey Parker - Year 9 | | Ruby Mitchel - Year 9 |
| Aibha Stone - Year 9 | | Jessica Bailey - Year 10 |
| Jessica Barton - Year 10 | | Natasha Swanson - Year 10 |