Creative Explosion: Annual exhibition showcases talent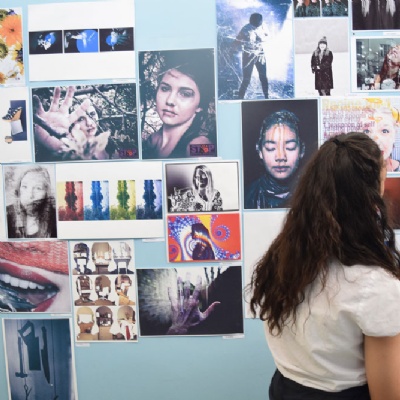 The evening of Wednesday 24 June saw the annual Creative Explosion private view to celebrate the work of our students from across the creative arts subjects; art, photography, design and technology and textiles.
Once again the library was convincingly transformed into a professional exhibition space and students and their parents were invited to see their work presented in a formal setting. The work represents numerous hours of work and demonstrates the true commitment and determination of our pupils.
This year the exhibition was shared with two other groups of students. The first being entries to the KS3 Art Competition across Years 7, 8 and 9. These pieces of work were shortlisted by their art teachers and presented and judged in advance of the exhibition. They were then announced on the evening. Some students were there to collect their golden paintbrush awards and others will receive theirs in due course. My congratulations go to all of those from these year groups who had their work selected for the competition and an extended well done to those who were lucky to catch the judges eye this year. There are certainly lots of stars to watch out for in the future from our talented cohort of KS3 students.