GCSE Results 2015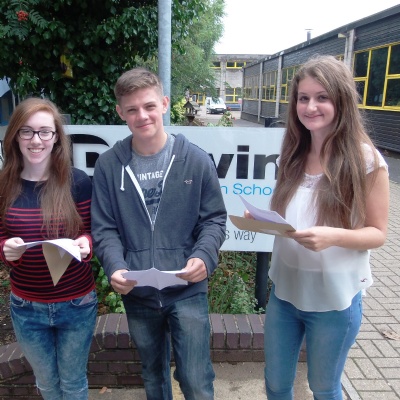 Pupils in Year 11 at Charles Darwin School have achieved outstanding GCSE results this year.
In all, 208 pupils took GCSE or equivalent examinations in Year 11 and of these
63% achieved five A* to C grades including English and Maths;
97 % achieved 5 A* to G grades and
98% achieved at least one grade C or above.
75% achieved A*-C in English
70% achieved A*-C in Maths
"These are fantastic results," said head teacher Mr Chotai. "Given the national context where marking and grading of examinations (as widely publicised in the press) has become more rigorous, this achievement from our talented and hardworking students is all the more impressive. When several remarks are returned the overall figure for 5 A*- C grades (including English and Maths) may exceed 65 %."
The overall figures of course include some outstanding individual performances: 20 students achieved at least five A*/A grades, contributing to a good improvement in the numbers achieving these top marks. Special mention goes to Elliot Smith with seven A* and three A grades and Callum Kenney, Katie Nash, Christine Safadi, Natalie Speller and Katherine Teather who all achieved nine A*/A grades.
"As ever, this is a credit to the hard work of our students, their very supportive parents and the dedication and professionalism of the staff here at Charles Darwin School. Students of all abilities have been well-supported and achieved some great results and there have been some outstanding performances from some of our most able students."
"We are delighted for all the students who have passed these important examinations, which now provide them with the ideal platform to move on to their next stage of education or training. Yet again our results are impressive and even more pupils will meet the minimum requirement to enable them to stay on at Charles Darwin School to continue their studies at Level 3 in our "outstanding" Sixth Form," concludes Mr Chotai.