A grand day out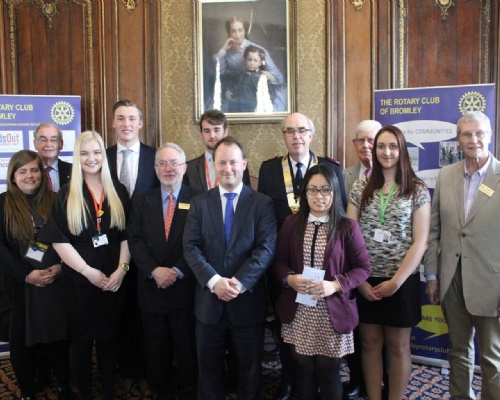 On Tuesday 12 April Year 12 students Callum Kenney and Mollie Harris attended the Rotary Club of Bromley's "School's Day" event with Mrs Furness. Mollie gives her own account.
On arrival, we had the chance to take in the beautiful scenery and the remarkable building at Chislehurst Golf Club. We were warmly welcomed by the Rotarians and our host, Geoff, who spoke to us about the history of the Rotary Club and how it was founded nearly 90 years ago.
The day gave Callum and me an amazing opportunity to engage with the Rotarians and discuss a variety of issues and enjoy a lovely lunch whilst doing so. Once lunch came to an end, the opportunity was provided for one student from each of the three schools in attendance to speak about our current studies, our involvement in school and our aspirations and ambitions for the future.
Callum gave a brilliant speech about the many educational opportunities Charles Darwin School offers, eventually having the crowd in fits of laughter when discussing his recent school ski trip to Austria! After the students' speeches the guest speaker, Councillor Peter Fortune discussed the current situation for schools within Bromley and the changes and adaptions he has had to face within his job, due to the move towards becoming academies. The whole day was a valuable experience and highlighted the motto of the Rotarians 'Service above Self': a message which was voiced repeatedly throughout the day about the importance of giving back. It was a common theme in all three students' speeches. We would once again like to thank the Bromley Rotary Club for their invitation, and we hope to continue our contact with them.